Ready to apply for work? Applying for a job can be daunting but also exciting, especially for a fresh graduate. You're finally one step closer to achieving your dreams. But how, exactly, do you go about it?
The great news is, you don't need to head out into the real world with an empty slate. There are so many resources on how to apply for a job online, like this blog, so you can avoid the most common mistakes first-time job seekers commit.
5 most common mistakes of first-time job seekers
1. Putting too much weight on grades and academic achievements
As a first-time job seeker, it's easy to assume that your amazing academic background and grades are the only requirements when applying for a job. However, in the real world, it takes more than an amazing GPA to be the perfect candidate.
2. Not being committed to the job search
Resting on your laurels after handing out a few job application letters won't land you your dream job. You have to put time and effort into researching and preparing when applying for a job.
3. Preparing a generic resume for every job application
A government job application will have different requirements from a part-time job application or a simple application for a teaching job. So having the same resume for different jobs won't boost your chances of getting noticed.
4. Relying only on the usual job application methods
Applying for a job online is just one job-hunting method — there are tons of ways to find your dream job in this day and age, from attending career fairs, getting referrals from your college alumni and network, to unique job search apps like Joblu.
5. Being easily frustrated by setbacks
Getting rejected when applying for a job is all part of the process, but many first-time job seekers are too quick to view them as discouragement.
In this step-by-step guide, we'll guide you away from these pitfalls and walk you through the whole process of how to apply for a job — from the preparation, the application, to your first interview, and what to do once the results are in.
What to do even before applying for a job
Prepare your job application packet
A job application packet typically includes a CV or resume, a cover letter, and depending on the industry, a portfolio.
CV or resume:

The difference between a CV or resume is in the length and coverage. A CV or curriculum vitae is more detailed, while a resume is shorter and straight to the point. A good rule of thumb is to prepare a master CV which has all your credentials. This will be the document you'll be tweaking each time you

apply for work

.

Cover letter:

Like your master CV, you should have a cover letter in case it's one of the

requirements for job application

. Be mindful about preparing different

cover letters for job applications

– you don't want to send out a letter bearing traces of another position or company.

Online portfolio

: Expect an online portfolio to be one of the

requirements for job application

if you're in the creative field. Prepare one with pieces that represent your skills at your best. Include accolades if you have them.
Review your online presence
Seven in ten hiring managers look at a job applicant's social media profiles as part of their screening process. They're not just looking for red flags; they're also looking for additional insight into the applicant. So now's a good time to clean up your online persona and consider your social media presence a part of your application for employment.
Before sending out job application letters, reflect on your goals. Do you want to focus solely on that one application for the position of your dreams? Or are you open to a part-time job application that may not pay as much but promises in-depth training? List down your goals along with your non-negotiables and negotiables, but remember to also be open to possibilities.
Where to look for jobs or leads
Nowadays, job seekers are lucky to have worldwide work application resources that allow you to widen your cast when applying for a job online or elsewhere. Here are a few to start with:
1. The website of your dream company
Most companies will have job listings on their websites, so those are always a good place to start with. Look up how to email to apply for a job on their website, or find their official social media pages for more information.
2. Job search platforms/portals
What makes job search platforms convenient is that you can type in keywords related to your niche, skill, or industry, and they can filter the posts for you. 
Other job apps take this service to the next level. Take Joblu for instance. Using smart filters, the unique job app allows you to conveniently match up with vetted and verified employers worldwide with a single swipe, the way you would on a dating app.
Don't be afraid to ask for referrals from your former internship mentor or college schoolmate. You'll be surprised at how much they're willing to extend help.
Career fairs offer other great services for first-time job seekers such as resources on writing cover letters for job applications, preparing for job interviews, and more. If you're seeking a government job application, you may find one in career fairs. Some companies will even conduct interviews on the spot, an excellent hands-on opportunity for you to learn how to apply for a job in person.
How to get your application noticed
On average, a hiring manager will look at a resume for 7 seconds, so how can you ensure your work application stands out?
Make your resume ATS-friendly
An Applicant Tracking System (ATS) helps hiring managers sift through thousands of resumes everyday. To ensure your resume is ATS-friendly, fill out your job application form with keywords found on the job post you're responding to.
Prepare an eye-catching executive summary
Here are the ingredients to a catchy executive summary: your academic background, leadership skills, passions, your hard (technical) skills, and your soft skills. Sum up how these credentials can help you contribute to the company — all in one to two sentences, max.
Highlight relevant achievements/skills
If you're filling up a simple application for a teaching job, you probably don't need to include your extensive pop culture knowledge in your resume. Don't pad up your job seeker application just to seem more qualified. A succinct one-page resume will be more than enough, as long as you highlight the right skills and achievements suited for the job.
Your application for employment should be as polished as possible. Check your resume twice then have a trusted friend or family member run through it to avoid spelling and grammar mishaps.
How to ace your first interview
Review the company you're interviewing for:

Learn about their company values and culture, their mission-vision, and their latest achievements. Knowing all these may not be part of your

work application

but the initiative will show your curiosity and eagerness for the job.

Practice your answers to common job interview questions:

Practice a few times, but don't memorize your answers word for word. You don't want to sound like a robot during the interview.
Bring a copy of your resume:

Your hiring manager should already have one on file, but bring a copy just in case.

Look presentable:

Aim for crisp and tailored clothing. Keep your hair neat and pushed back to show your face.

Arrive on time:

Make allowances for traffic and other occurrences. Arriving early or on time, whether it's for a

part-time job application

or a

government job application

, is common courtesy.

Keep calm and conversational:

Don't talk like a walking

job application form.

Speak with your hiring manager on a human level and show them your best real self.
A job interview is the perfect opportunity to ask questions that you can't ask on your work application. Asking questions shows that you're keen and interested about the job and company you're applying for.
Additional Tips for Online Job Interviews
Online job interviews have become part of the new normal hiring process post-pandemic, so be prepared for one, especially if you're applying for a remote position.
Make sure your mic, headset, camera, and online meeting app are in working condition at least a day before the interview.

Be in a distraction-free venue and if you're living with anyone, let them know your interview schedule.

Be on standby at least  5 to 15 minutes early. Use these minutes to check your devices once more and calm your nerves.
What to do after the interview
Immediately after the interview, sending a quick note of thanks will be much appreciated. It can also make you more memorable.
Don't bombard your hiring manager with follow-ups. Give your prospect a few days to get back on your application. If you haven't heard back in two weeks, you can send a short missive asking for an update.
Rejected or accepted? What to do in either scenarios
If you receive a rejection letter, don't just delete it. Respond to the letter with thanks, ask for feedback, and if you're still keen on working with the company, ask for referrals.
Got the job? Hurray for a job well done! But first things first: review the offer vis a vis your goals. Do the terms and working conditions align with your goals? It doesn't have to be a perfect match, but it shouldn't be a total compromise.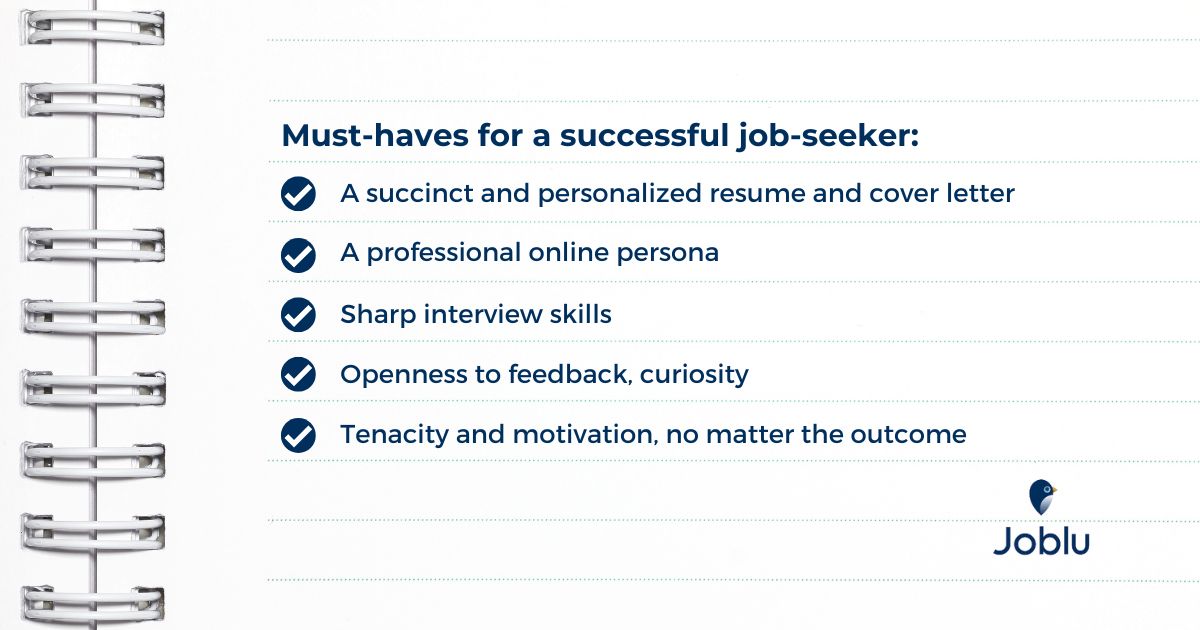 There's no one-size-fits-all on how to apply for a job. However, taking the time to learn and prepare will always pay off — whether it's drafting different cover letters for job applications, looking up tips on how to apply for a job in person, or attending workshops on writing job application letters.
When applying for a job, requirements may vary, but the following will always land you a spot on the top of the pile:
A succinct and personalized resume and cover letter

A professional online persona

Sharp interview skills

Openness to feedback, curiosity

Tenacity and motivation, no matter the outcome
Don't limit yourself to one type of job search or to one dream company or job –be open to possibilities. Stay updated on job search trends and advancements. Step out of the usual tactics and try unique job search methods like signing up for Joblu. 
Frequently Asked Questions About Applying for a Job
Q: What do you write in an email to apply for a job?
A: Don't know how to email to apply for a job? Most job seeker application posts will redirect you to fill out a form, but if you received strict instructions to email your application, here are a few tips to make your message stand out:
Make your subject line clear, i.,e. "Your name +

Application for the position of

__"

Use formal opening and closing salutations.

State your purpose. Let them know that this email is an

application for employment

right away. In one to two sentences, show why you're a great fit for the job.

Sign off with your complete name and your correct contact information.

Don't forget to attach your resume.
Q: What are interviewers looking for? 
A: Job interviews are a crucial part of any application for employment, a chance for the employer to get to know the person behind the amazing job seeker application form. 
Here are the details most interviewers are on the lookout for during interviews:
Confident body language

Personality – are you a good fit for the team?

Leadership and other soft skills

Passions and values

Success stories
Q: What are interview questions an employer cannot ask?
A: Anything related to your gender, sex, or sexual orientation, racial or religious background, marital status, age, or disability. If you ever encounter such a question, you can always ask your interviewer how your answer relates to the post you're interviewing for.
Q: What do you say when applying for a job online with no experience?
A: If you're applying for an entry-level job, the hiring manager already knows you're a fresh grad or a first-time job seeker. So how to email to apply for a job with zero experience and still stand out? Don't be afraid to get a little personal. Connect your childhood dreams to the company, highlight your personal achievements, or find commonalities between the company's values and yours.
Q: How do you impress an employer to hire you?
A: Perfectly fulfilling all the requirements for a job application is one thing — but as a fresh grad, showcasing your personality while displaying a willingness to learn, and a clear passion for the position, should impress any employer.