Thoughts of the New Year always bring to mind one thing: turning over a new leaf. For many workers dissatisfied with their current jobs, this could mean starting over at a new workplace. But is December really the best month to resign? 
The era of the Great Resignation reached an all-time high in November 2021 in the United States. And while the trend seems to be slowing down in 2022, experts say it is far from over all around the world. Waves of resignations have been happening in the United Kingdom, Australia, and France, while more than half of the surveyed workers in Singapore planned to quit at the beginning of the year. With 2022 nearing its end, there's no telling yet whether they made good on their plans. Perhaps some of them are now wondering whether December is the best month to resign or if they should just wait until next year.
In this article, we'll be looking at the trend of the year-end resignation habit: why employees quit after the holidays and why December is a good month to resign (or is it?).
Why do employees quit after the holidays?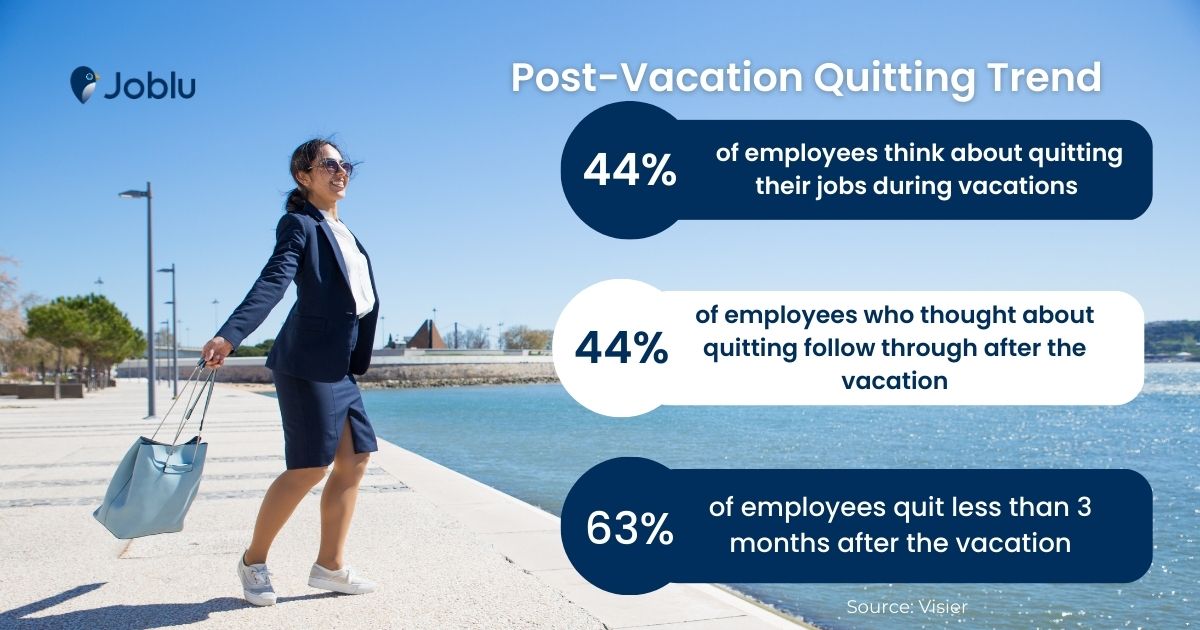 Do you often find yourself brainstorming about what could be the best way to quit a job immediately over the holidays? While opening presents, do you mull over the best time to send a resignation letter to your boss? Does everything in your life seem to point to signs you need to quit your job? Don't feel guilty, because you're not alone in having such thoughts. 
In a 2021 Visier survey, many workers reveal that they're prone to thinking about quitting their jobs during vacations or holidays. It's the Post-Vacation Quitting Trend, as Forbes calls it, and it's fairly common. Almost half of the workers surveyed thought about quitting while on vacation breaks, and 44% of those workers did quit following the vacation. The majority of these quitters were the ones who stayed connected to their work while on holiday. 
Apart from feeling dissatisfied with the quality of their vacations, what is it about the December holidays that makes workers think it's the best month to resign? In this metro.co.uk article, experts note reasons why employees quit after the holidays.
1. New Year's resolutions
The first reason most workers feel December is the best month to resign is the prospect of January just over the horizon. The month carries with it plenty of expectations. It signifies a blank slate for most and a chance to recommit to self-improvement through New Year's resolutions.
2. Shifts in relationships
Relationships play a big factor as to why December is a good month to resign for some. The holidays seem to place a heavy burden on relationships, both in the positive and negative sense. It's the month with the most marriage proposals and the most breakup incidents, both of which could compel people to rethink their lives and their jobs.
3. Reflecting during the holidays
As people start to prepare for the holidays, they begin to have more time to reflect. And if they've been feeling less than satisfied with their jobs throughout the year, the realizations gleaned from these holiday reflections seem to be the final push they need to quit.
4. Hopelessness about the New Year at work
The same people dissatisfied with their jobs could also be anticipating that nothing is ever going to change at work after the holidays, and so they're the ones more bound to think that before or after the holidays is the best time to resign.
Is December a good month to resign?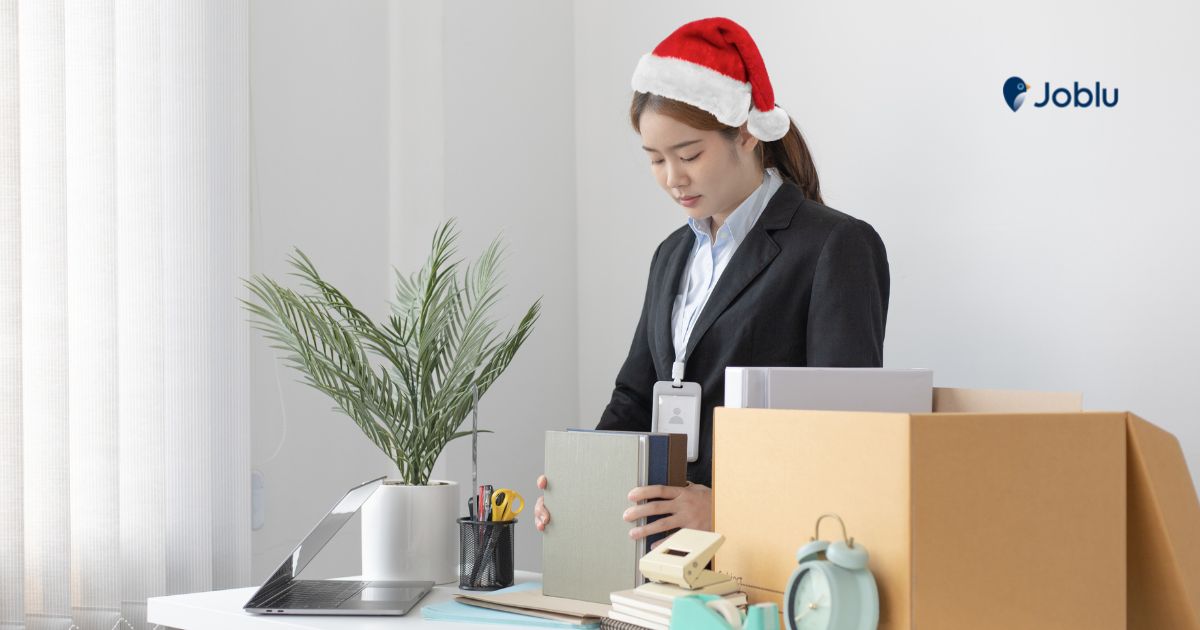 If you've been seeing signs you need to quit your job for the whole year but haven't taken action on it, you're probably now wondering if December is the best month to resign. Traditionally, experts would say that it is, simply because January, which is just weeks away, is the best month to apply for jobs. The beginning of the year, apart from feeling auspicious, is when companies receive new hiring budgets. They're more compelled to put out more job ads for this reason, in keeping with the company plans for the new year. 
However, experts are quick to note that the downside to January job hunts is that while there seem to be more job ads, things can go much slower as people are still adjusting to the post-holiday work routine. There's competition as well, as more people, like you, are seeking fresh starts during the new year. 
If your company is one of those that hold off on year-end bonuses, you might want to rethink if December is really the best time to quit your job. The general advice would be to stick around until they release the bonuses, and use this interval to plan your exit.
While December and after the holidays are often seen as the best times to start over, there are still exceptions. In Asian countries that celebrate the Lunar New Year, hiring managers may be slower to respond during this extended holiday. In Muslim countries, Ramadan is generally considered a slow time for work in general because of the shorter hours. This article, though, urges workers to reconsider and think of the extended holiday as a time to reflect on their career path, review their resumes, and start hunting for jobs.

Specialized industries may also have their ideal months for quitting and job hunting, so if you're in any of these industries, the best month to resign for you may vary. In the education sector, quitting after the close of the school year is sensible and practical. You can then spend the summer finding a job while schools and institutions are keen to fill their manpower in time for the start of the school year. The retail and hospitality sectors, on the other hand, have the most job openings during the pre-holiday months.
The best way to quit a job
It really is hard to pinpoint the single most recommended time to quit a job. It is a very personal decision and can involve various factors. The best way to quit a job immediately is to have a plan mapped out prior to your resignation. Planning requires studying the trends in your industry, reviewing your financial situation, and reflecting on your reasons for resigning. Let these things guide you on your next job hunt so you can improve your chances of landing the job of your dreams.
Ready to move on to a new job opportunity? Download the Joblu app, connect with top employers from all over the globe, and find a meaningful job that won't have you thinking of resigning.
Frequently Asked Questions About the Best Month to Resign
Q: What is the best time to send a resignation letter?
A: While the best month to resign depends on your situation and your resignation strategy, the best time to send a resignation letter is at least two weeks before your intended last day of work. 
The best time of day to send the letter is near the end of a workday. This gives you enough time to talk it over with your immediate supervisor and decompress for the night. Sending a resignation at the start of the workday could be awkward and distracting. It might have you wondering all day whether your supervisor has read your letter and how they might be reacting to it. 
Q: What day of the week is the best time to resign?
A: The beginning of the work week is the best time to resign, as it gives you and your boss the entire week to plan ahead for your transition and get used to the idea of your resignation. The best day of the week to render your last day is the last day of the work week, so you can have a farewell party with your colleagues, an important rite of passage if you want to maintain your professional relationship with them.
Q: Should I talk to my boss before resigning?
A: Yes. It's the polite thing to do, and the best way to leave on a positive note. 
Q: How do you gracefully quit a job?
A: Rehearsing your oral resignation could help you quit a job more gracefully. Write down what you want to say but reframe your resignation as a positive move for both you and your employer. 
Q: Does quitting your job make you happier?
A: It does, but only for a while. According to author, psychologist, and happiness expert, Sonja Lyubomirsky, this is because of hedonic adaptation. This phenomenon leads people to easily get used to a level of happiness brought about by a certain change like quitting a job. As soon as we get used to this level of happiness, it tapers off, and so we seek out another higher level of happiness. This is why the positive feelings one might get from quitting one's job can't last.