Are you applying for a promotion, making a career switch in the coming year, or a fresh graduate hoping to increase your chances of landing your dream job? Before making the leap, why not consider upskilling first? Upskilling doesn't necessarily mean getting a second degree or a master's degree. Nowadays, there are so many reputable sites for free online courses in a range of subjects and specializations. These free online learning sites are the best and most cost-effective option for individuals who:
Want to sample or audit different courses to find out which works for them before taking advanced studies
Can only spare a few hours a week to go to class
Want to beef up their resume while hunting for their first job or looking for their next one
In this blog, we'll be sharing the 15 best sites for free online courses. Most of these free course sites are MOOCs or massive open online course sites offering a spectrum of courses in various subject areas. Others have a small selection of niche offerings for highly specialized careers. It's important to note that some of these certificate courses may not be accredited by official academic institutions. This means you can't use them as credits if you're applying for university. They are, however, still a boon to your resume as taking classes shows your personal commitment to improving yourself.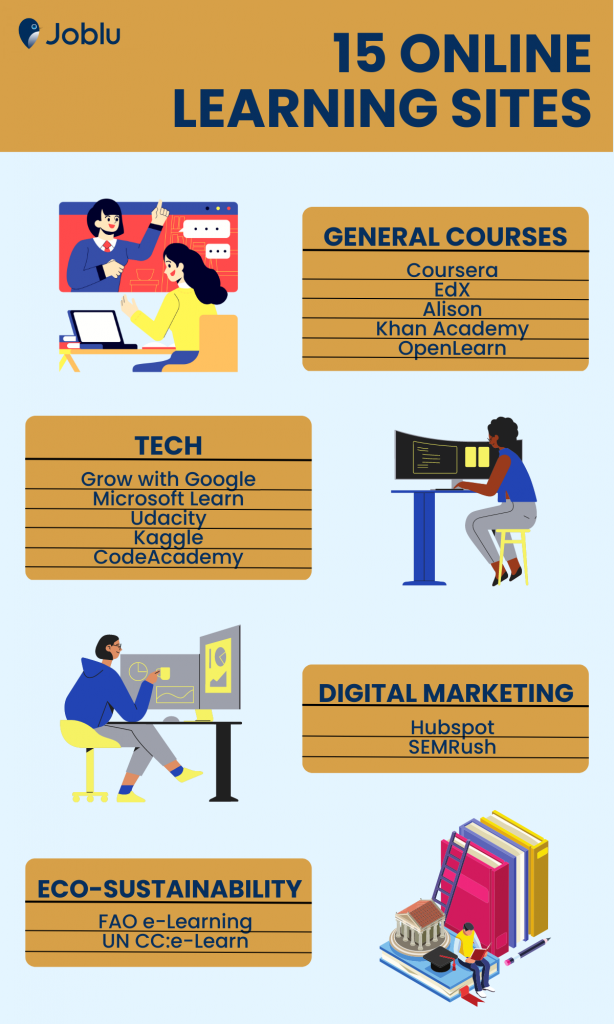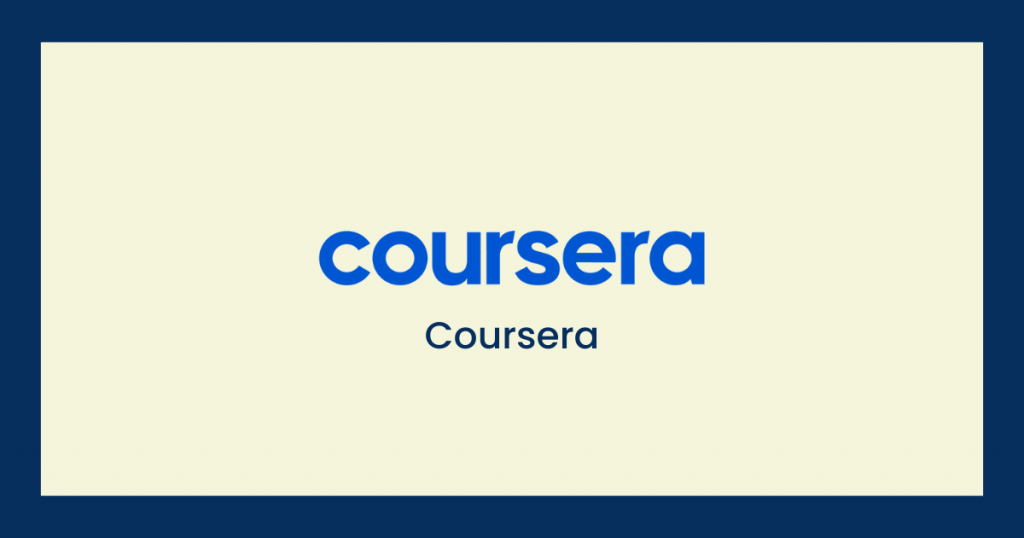 Coursera is one of the top online courses websites offering free classroom-style structured classes. They typically partner with universities such as Stanford University and the University of Michigan and tech companies like IBM and Google. Coursera offers full courses divided into self-contained modules. Students can take a free self-contained module before deciding if they want to commit to the full course.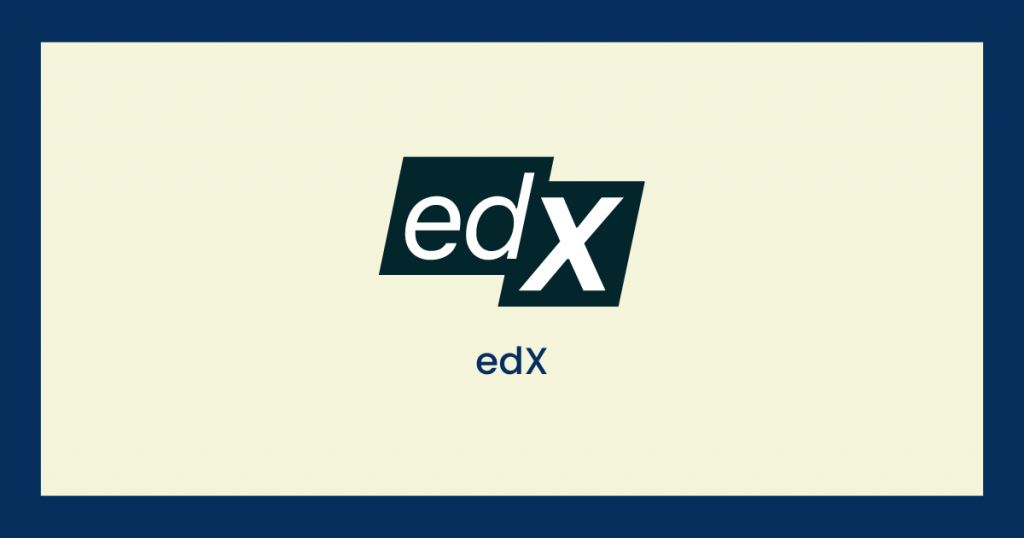 EdX is pretty similar to Coursera and is likewise one of the best sites for free online courses. Their top academic partners include MIT, Harvard, and UC Berkley. They also partner with non-profit and non-governmental institutions, national governments, and multinational companies in their advanced programs. They have a wide range of offerings, but their focus is on math, science, and engineering subjects. They're best known for offering MicroBachelors and MicroMasters degrees which are paid, though they have a slew of online modules you can take for free if you're okay with not getting a certificate.
The best free courses on Udemy change regularly as the online learning site typically holds rotating free deal promotions on their paid courses. What makes Udemy special is that its courses are taught in over 65 languages. They have 57,000 instructors from around the world on deck, teaching over 150,000 courses in various subjects.
This online learning site offers diploma courses and certificate courses from a wide range of course categories, from IT and health science to agriculture and tourism. If you have a specific career track in mind, the site organizes its courses based on niche. Alison is also one of the best sites for free online courses in language learning, specifically if you want to learn English, French, and Japanese.
Khan Academy is a free course site for younger learners in grade school all the way to college. They cover math, science, arts and humanities, and reading and language arts, as well as test prep for AP® and SAT®. While not necessarily used for upskilling for specific career paths, enrolling in Khan Academy is recommended if you need to brush up on your AP-level courses while preparing for a second degree.
OpenLearn is one of the best sites for online courses in subjects such as languages, history and arts, business, nature and environment, society, politics and law, education and development, and more. They offer three levels — intro, intermediate, and advanced — for many of their course offerings. You don't need to create an account to enroll in a course, but you need to have one if you want a certificate.
Microsoft Learn is Microsoft's online training platform. It has over 1960 free modules and 430 learning paths which students can use to learn about the company's specific technologies such as Office 365, Visual Studio, Windows, SQL Server, and Azure. The free learning paths are self-paced, so if you want to undergo instructor-led training, you can opt for the paid option.
Among tech companies, Google has one of the best sites for free online courses on specialized topics such as Android Development, Google Analytics, and Google Cloud. You will also find Google regularly partnering with other third-party MOOCs like Coursera for their other full-length courses.
If you're looking for the best sites for online courses specializing in inbound marketing, sales, and customer service/support training, you may have heard about HubSpot Academy. This top online courses website is the best learning hub for all things digital marketing: Facebook marketing, Instagram marketing, Twitter strategy,  business blogging strategy, and even online sales training.
For SEO or SEM specialists, the SEMRush Academy is a top resource. It's the best online course website for SEO-related subjects, offering 30 free certificate courses in search engine optimization, content marketing, competitive research, and more.
CodeAcademy is the best site to learn web development, data science, computer science, and cybersecurity — basically anything to do with various career paths in the world of tech. CodeAcademy offers free beginner courses in HTML, JavaScript, Python, SQL, and C++. Once you're ready to take the leap, you can opt for the paid pro courses based on your chosen career track. If you're still weighing your options, the site has a short quiz that gives course recommendations.
Kaggle is primarily a community for data scientists and machine learning practitioners. If you're an aspiring data analyst, you can start with their 16 free step-by-step practical courses where you can learn the basics of data science. Advanced learners can use their public datasets and public notebooks to practice data analysis. You can even join their competitions where you can help solve real-world machine learning problems.
Udacity is one of the top online course websites in tech, offering free classes on data science, programming, business, AI, cloud computing, and cybersecurity. They pride themselves on their instructors who are real-world experts from Fortune 500 and Global 2000 Companies. They take the learn-by-doing approach in their classes, so enrolling in Udacity is best if you're a kinesthetic learner.
The Food and Agriculture Organization of the United Nations has an eLearning Academy. They offer over a hundred free courses in food and nutrition security, social and economic development, and sustainable management of natural resources. The goal of this free course site is to provide advanced learning in order for the UN member countries to achieve the 2030 Agenda for Sustainable Development.
The United Nations Climate Change Learning Partnership or UN CC:eLearn is the best online learning site for climate change and green economy. It offers 39 free courses with certificates. The courses come in different lengths, from 2 to 3 hours to 12 to 30 hours, depending on the depth of their coverage. Select courses are offered in languages other than English such as Portuguese, Vietnamese, French, Spanish, and Arabic.
There are now so many opportunities to learn and expand in the age of information, and most of them are offered for free on the top online courses websites. It's simply up to you, the learner, to follow through with motivation and discipline. The best way to go about learning to upskill is to go where your curiosity leads you. Take it one step at a time, enjoy the learning process, and find more self-improvement opportunities outside these online learning sites.

Ready for a meaningful career with growth opportunities? Download the Joblu app to connect with employers all over the world and be one step closer to your dream job.
Frequently Asked Questions About Sites for Free Online Courses
Q: Does Google offer free online courses?
A: Yes. Google has over 600 free online courses on specialized topics such as Android Development, Google Analytics, and Google Cloud. They also partner with other MOOCs to offer full courses.
Q: Is Coursera no longer free?
A: Coursera is still free to join and offers free short courses. However, their online degree programs and specialized certifications are paid.
Q: Is the Udemy certificate valid?
A: The best free courses on Udemy do not offer a certificate of completion so they cannot be used for formal accreditation. However, their paid ones do offer certificates of completion which you can include on your resumes.
Q: Can you start a career after completing a course on Udemy?
A: If you're a fresh graduate, taking an online course can boost your resume and show your prospective employer that you're a keen learner.
However, if you're making a career switch, completing a course on Udemy or any of the best online learning sites is just one step. You can't solely depend on free online courses — you have to find other opportunities to learn, and that may require a bit more investment like taking a paid course from an accredited institution or applying for internships or apprenticeships.
Q: Are Google free courses worth it?
A: Google's free courses on digital marketing are worth it, especially if you're new to the industry and are looking for a way to break in.