Now that you've polished off your resume, it's time to tackle writing a cover letter. What's a cover letter, you ask? A cover letter or an application letter for a job vacancy is typically a companion to your resume or curriculum vitae. It's in the form of a letter, as the term suggests, so it's a more direct and personal appeal to your prospective employer. Because cover letters for job applications are meant to accompany your resume or CV, it shouldn't be a reiteration or repetition of the facts stated in the aforementioned document. Instead, it should provide context and clarification into your background while showing a glimpse into your personality.

These days, cover letters for job applications may be deemed arcane. But it's still pretty much a part of the typical hiring process. In this post, we'll discuss why writing a cover letter is a must for all job seekers. We'll also cover the accepted format of application letters and provide you with a free cover letter template that you can easily edit for your own purposes.
Why write a cover letter for job applications?
No matter how comprehensive your CV is, hiring managers usually need more information before they can decide if they want to call you in for an interview. If the type of information they're looking for can't be covered by bullet points, that's when they start reaching out for the cover letter. 
A survey among recruiters shows that at least 10% of hiring managers say they reject applicants who don't accompany their CVs with an application letter for a job vacancy. That's because, unlike a CV, your cover letter allows your recruiter to assess if you're fit for a job and for the company, personality-wise. Even a simple application letter lets them have an idea if your expectations for the job you're applying for and what motivates you match with what the company can actually offer.
Anatomy of a cover letter
Cover letters for job applications can vary depending on the job or the industry you're applying to. But for the most part, the general format of application letters is pretty much the same. Recruitment experts say that three paragraphs is the standard length of the best application letters for a job vacancy — comprehensive enough but not too long or information-loaded. In any case, it should contain the following elements:
The header of a cover letter is divided into three parts. The top part contains your basic information — your name, complete address, and contact information. The second part contains the date on which you're writing the letter. The third part needs to have the information of the person you're writing to. It can be a specific person in the company along with their designation, company name, and address. If you can't find this information online or elsewhere, "Hiring Manager" will do.
The safest salutation you can use if you don't know the specific contact person for the job post is "To whom it may concern." You can also use "Dear Prospective Employer" or "Dear Hiring Manager." If you do know the name, feel free to use it.
Opening Paragraph: Introduction
Go straight to the point. In four paragraphs or less, state your purpose for writing. Let the reader know what job post you're responding to and why you're interested in it. Mention where you found the post or if an employee referred you.
Middle Paragraphs: Your offer & motivation
The middle paragraph is your opportunity to show why you're the perfect person for the job. Highlight your background, job experience, and at least two or three skills and demonstrate how they match up with the needs of the job and the company. Include some of your accomplishments and your learnings — but only if they match with the requirements of the job.
You can write more than two middle paragraphs if you have a wide array of relevant experience. But if you're a fresh graduate or making a career shift, a single succinct paragraph will work better.
Close your application letter strong. Emphasize your interest, and include a few phrases on your key skills that make you the perfect job candidate. Then look into the future — take initiative by letting your recruiter know that you're looking forward to taking the next steps. And refer to your attached CV or resume.
Use a formal "Sincerely" or "Best Regards" along with your complete name.
How to Start Strong with Your Cover Letters for Job Applications
The best application letter for a job vacancy (or even a cover letter for an internship) starts with a proverbial bang. There's not a single format of application letters that guarantees instant success but follow these tips to keep your hiring manager interested in reading your letter further.
Express your enthusiasm for the company
Are you writing an application letter to your dream company? Do your mentors or other people you trust highly recommend the company? Or have you read about the company and found them admirable? What exactly do you admire about the company? Express these feelings in your opening paragraph. But don't overdo it as it may come off as insincere.
Highlight your recent achievement
Showing off an achievement isn't self-indulgent or boastful if you can connect it to the job you're applying to. Highlighting a personal achievement allows your prospective employer to have an idea of what you're capable of.
Demonstrate your passion, beliefs, and personality
A way to avoid repeating verbatim what's included in your CV is to let your authentic self shine through when writing a cover letter. Strike the perfect balance between personal and professional. Include your values and inspirations. But don't go into too much detail about your history. This is a letter, not an autobiography.
Use action verbs and positive words
Show that you're an individual of action by using action verbs and phrases. For example, instead of writing "I'm an active participant in ____ and ____ ", you can rephrase that as "I participate actively in ____ and ____." Action verbs help you paint a clearer picture of who you are and show that you're an action-oriented person.
Likewise, paraphrasing your statements to sound more positive allows you to leave a more pleasant impression on the reader.
This generic cover letter example is meant to guide you on the basic elements that every cover letter for job applications needs. It can likewise be used as an application letter sample for any position without experience. Feel free to highlight certain aspects of your niche where relevant or necessary. 

An important tip: don't use the same cover letters for job applications. The same goes for internship application letters. Always customize every missive you send out so you won't accidentally send a letter bearing traces of a different company to another.
Your Name
Complete Address
Contact Number
Email Address
Current Date
Name of Hiring Manager
Company Name
Company Address
Company Contact Number
Hiring Manager's Email Address
Dear [Name of Hiring Manager],
I hope this email finds you well.
I'm writing this letter to express my interest in the [Job Position Name] at [Company Name]. I'm a [Designation/Occupation], having recently graduated with a degree/diploma in [Educational Attainment] from [School/University/College]. I am confident that with my knowledge and skills, I can contribute greatly to your team and company.
I'm excited to apply for this job as I believe the requirements match my interests and skills. As a [Past Job or Internship Experience], I handled [Responsibilities], where I utilized my [Specific Skills]. In that position, I was able to achieve [Specific Achievements] / learned how to [Hard and Soft Skills]. In addition to this, I know that your company is focused on [Knowledge of Company Projects/Vision], which I'm very passionate about as well. I would love to join and grow with a company that values [Vision] as much as I do. 
I believe that I'm a great fit for this job because of my [Mention Years of Relevant Experience, Key Skills, and Passion]. I would love to discuss further how I can contribute to your team. I have attached my resume to this letter for your review. I look forward to hearing from you soon.
Sincerely,
Your Full Name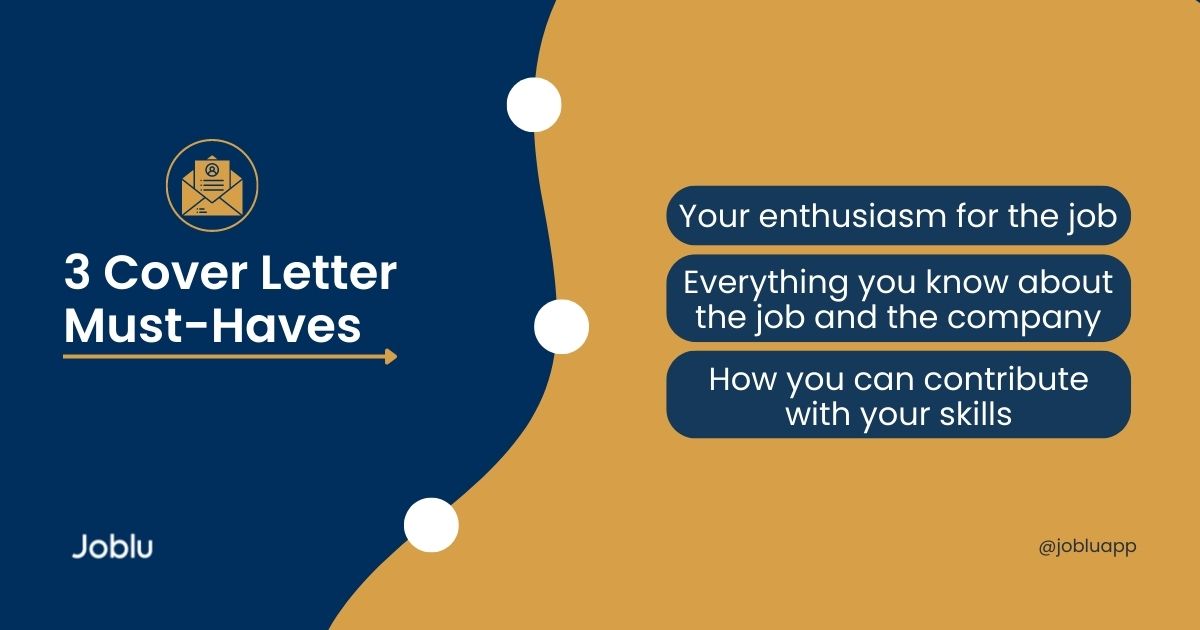 You don't need to be a talented writer to create an impressive cover letter for a job or internship. Remember, a cover letter is simply an opportunity for you to show your sincerity, enthusiasm, and passion as well as your authentic side. The format of an application letter is flexible – there are no rules to it, but if there's one rule to writing a cover letter, it is that you should only include facts and statements that you can confidently stand by and back up with proof. 
Find an employer that matches your passion and enthusiasm by downloading the Joblu app. At Joblu, we care for every job seeker's well-being, which is why we're focused on providing opportunities for meaningful jobs anywhere in the world. Swipe your fingers on the Joblu app to review job posts from an array of verified and vetted companies and hiring agencies and you might just find your perfect job match.
Frequently Asked Questions About Cover Letters for Job Applications
Q: How do I write a simple application letter or cover letter?
A: The widely accepted format of an application letter is a short and sweet three-paragraph letter. The first paragraph should start with your interest in the job/company. The second one should include your skills, interests, and passions that are relevant to the job or internship post. And the third paragraph, your closing, should summarize the contents of your first and second paragraphs, reiterating how you're a perfect fit for the job. Your closing should also make a reference to your attached resume or CV.
Q: What three main points should be included in your cover letter?
A: Cover letters of job applications should include three important things:
Your enthusiasm for the job

Everything you know about the job and the company

How you can contribute with your skills
Q: What should a cover letter not include?
A: The format of an application letter is quite flexible. However, these are faux pas that a cover letter for a job or internship should not have:
The wrong company name/job position

Spelling or grammar mistakes

Irrelevant or too much information

Negative comments about a past employer

Salary expectations
Q: What is the best opening line for a cover letter?
A: As in the free cover letter template we've included, the most effective line is always a straightforward line. "I'm writing this letter to express my interest in the [Job Position Name] at[Company Name]." You can paraphrase the opening line to connote your excitement and interest, but make sure not to overstep the line or overdo it. Depending on the company's tone of voice, you can go informal. But if you're not sure, it's best to stick with a line that strikes a balance between reserved and enthusiastic.
Q: What should the first paragraph of a cover letter include?
A: The first paragraph should include your interest in the job position and company, your background, and in a single sentence, why you think you're perfect for the job. Though it's not a hard and fast rule, it's best to stick with four sentences or less in your first paragraph, because a dense-looking paragraph is not very enticing to read.