The digital nomad lifestyle has already been a buzz among the workforce for a plethora of reasons – from flexible time and less working hours to being able to attend meetings in pajamas. 
This article will take a deep dive on the definition of digital nomadism, its prerequisites, testimonials from digital nomads themselves, and websites to help you jumpstart your career change. 
What is Digital Nomadism?
Digital Nomadism is the act of traveling from one place to another and working remotely. Self-employed individuals, remote workers, as well as freelancers fall under this category and are called digital nomads. 

2021 statistics recorded a whopping 35 million digital nomads worldwide and is only expected to have an upward trend in the coming years. While the pandemic contributed to this phenomenon, employees are starting to embrace the idea of being able to work anywhere – may it be at home or in a different city.
There are three main categories of people whose income allows constant travel, freedom over working hours, or a lavish lifestyle:
According to 2021 data published by Oberlo, 30% of the world's population shop online. While the high number of online shoppers can be attributed to convenience, the pandemic has helped entrepreneurs recognize flaws in having only traditional business establishments. Therefore, e-commerce is only expected to grow as businesses shift strategies to prioritize digital storefronts.
As such, having your own online business is an excellent way to sustain a nomadic lifestyle because you set your own boundaries and follow your passion.
Remote workers are employees who earn income through a fixed salary. An Owl Labs study reported that around 16% of companies around the world are fully remote. Hiring remote workers can save companies money and company resources, so the percentage will most likely increase in the coming years. 
Therefore, remote working is another option to consider if you want to have a stable income and career growth in a company.
Unlike remote workers, freelancers don't have fixed incomes and depend on the demand of work. Graphic designers, content creators, or anyone who monetizes their skills without signing as full-time employees, or on a project-based agreement, fall under this category. A 2022 report published by Exploding Topics reported that there are almost 1.60 billion freelancers worldwide.
May it be learning a new language or skill, monetizing it will always be wise because there will always be someone in need of it.
Why join the digital nomad world?
The answer is simple: autonomy. The most compelling reason why people consider nomad work is that employees have a sense of independence from their employers. The mere fact of not signing in every morning and working at a cubicle gives employees a sense of being able to stir their own ship, which in turn gives them a sense of fulfillment.
Having said that, here are a few other reasons why people work as digital nomads:
Improving quality of life
Thanks to inflation, the cost of living in an urban city is at an all-time high. Between paying for groceries, rent, and bills, sometimes the everyday fare can be the final straw to breaking the bank. A fare budget may seem trivial, but it actually costs a lot when accumulated. Hence, being able to remove it altogether can increase a person's budget in different aspects of their life such as housing, health, or personal growth.
Whether used for upgrading your flat, eating out with friends, or taking classes, all of these are justifiable reasons for personal growth and can improve a person's quality of life. 
Having a deeper understanding of other cultures
Digital nomads choose to travel for obvious reasons. While some prefer the jet-setter life, others like to spend months in one country to deeply discover cultural differences and have a sense of perspective on why people think and live the way they do.

For this reason, countries now offer special visas for digital nomads to encourage longer stay. According to Visa Guide, there are currently 42 countries offering digital nomad visas with popular destinations like Indonesia, Dubai, Portugal, and Taiwan, among others.
Choosing your own working hours
Aside from digital nomads being able to work anywhere, having the ability to take control of their time is a huge perk. When applying for a job, remote workers can choose companies that are within their set working hours. Aside from that, freelancers also have the option to accept or turn down offers if their schedule doesn't allow it. 
At the end of the day, personal time management is seen as crucial to allow hobbies and personal development.
Requirements of a virtual nomad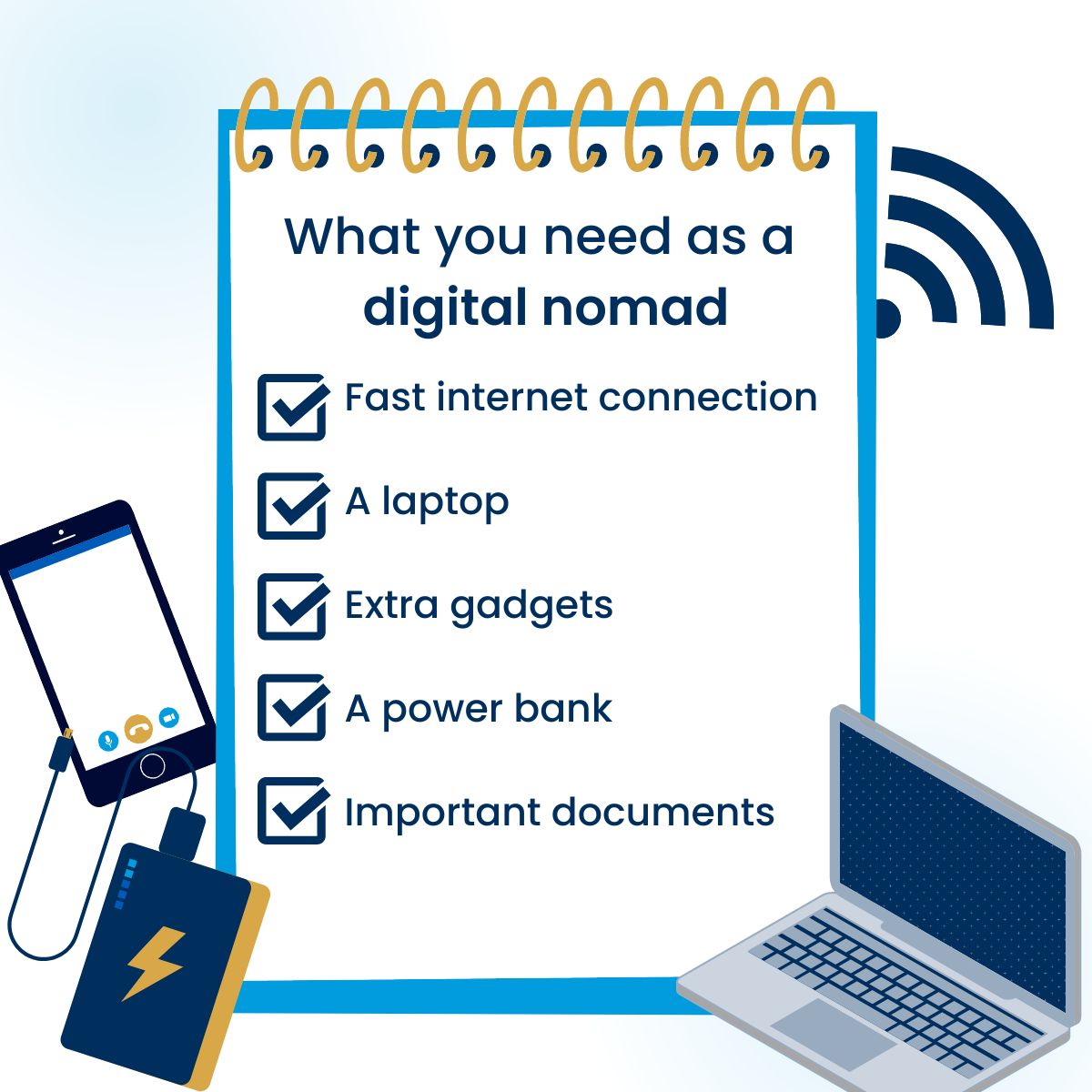 The requirements for digital nomadism are accessible and straightforward. Aside from basic needs like food and lodging, the following are prerequisite resources:
Fast internet connection or hotspot

. Finding out where the hotspots are is key so traveling doesn't compromise work. Research cafes or coworking spaces that have a fast internet connection. However, renting or buying portable wi-fi also proves useful, especially for jobs that require video calls. 
Laptop or tablet.

While some jobs only require a smartphone, working on a laptop or tablet is faster and more convenient when it comes to uploading documents and typing. Investing in a laptop with a fast processor is worth every penny because it can help complete tasks faster and allow more leisure time. 
Extra gadgets for working.

Gadgets prepare people for the worst like being stuck in a remote area or running out of battery in a place with no power. Essentials include (but are not limited to) power banks, hard drives, extra chargers, and adaptors. Tools vary depending on location and nature of work, but it's better to be overly prepared than not be prepared at all. 
Important Documents.

An experienced traveler always packs two valid IDs (passport and a national ID/driver's license), their visa, and health documents (insurance and vaccination cards). Some people even take it a step further by photocopying all important documents or storing soft copies online. Better to be safe than sorry, right?
Remote working and digital nomadism call for the right mindset. As customs differ from one country to another, foresight is key to anticipating any given scenario to solve all possible issues that may arise. 
Is digital nomadism worth the hype or over-romanticized?
Now that we've covered the types of digital nomads and the basic requirements to start the journey of being one, we'll help you weigh in on the lifestyle and see if you're ready for the switch. With that, we have testimonies from different points of view from: (1) people in the Philippines who have been working fully remotely for a long time, and (2) a freelancer in Europe who just transitioned to the digital nomad life this year.
Janica Buenconsejo is a content marketing strategist who has experimented with a hybrid work setup for a year and a half before transitioning to a fully-remote work environment. She has been working remotely for 4 years and has not looked back since.
"There's no doubt that the remote work setup has helped me become more effective at work and better take care of myself than when I was going to a physical office. Now, I can schedule workouts within the day, eat home-cooked meals, and take breaks when I need to. At the same time, I can focus on my work because I'm not worrying about extraneous things like being tired from traffic or how late I'll be able to go home. The ability to also travel while working is an added bonus. Being at the beach or the city center of another country definitely adds fun and excitement to an otherwise dreary work day."
Her sister Errica Buenconsejo is an account and project manager who ventured into digital nomadism in 2020, at the height of the COVID-19 pandemic.
"I've always felt that this life is for me. However, I made sure to read up on websites and resources for digital nomads before taking the leap because I made that decision during a very difficult time. I've had friends lose jobs because of the pandemic, and I didn't want to suffer the same fate, so I even went down the rabbit hole of reading a Reddit thread on digital nomads. Although I have the flexibility to work when and where I want to, identifying the fine line between work and personal life has been my biggest challenge, especially on the days that I work at home because I have the same setting for everything. Nonetheless, I don't think I see myself working at an office. I'm satisfied with how I am now."
Meg Quintos is a graphic designer on a freelance visa in Spain. She recently began her digital nomad journey and gave us her take on what her new life has looked like:
"I'm currently a graphic designer based in Madrid and since moving to Spain in 2018, I worked with different clients, did my masters online and traveled a lot around Europe! I remember working on moving trains, planes, airports, poolside, hostels, and lots of random cafes. I really love that I can travel with my work but what I learned early on about being a digital nomad is that it's not all "insta-perfect" adventures. I remember feeling a lack of stability and exhaustion, but I just powered through and reminded myself of the beauty of new experiences. It'll be a challenging journey, but if you really wanna do it full-time, there's always a way. Think of a skill you're really good at (or learn a new one!) and focus on that. In the end, all you need is a laptop and determination! You just have to start somewhere and grow."
Websites for Digital Nomads
As a global digital nomad, the following digital resources will guarantee proper task and time management:
Joblu is a mobile application that's been changing the game for people looking into digital nomad work. With a swipe to the right, job seekers can match with recruiters who meet their work requirements. The application can filter for part/full-time work and hours, but one huge advantage Joblu has over its competitors is allowing job seekers to impress recruiters with a 30-45 second JobReel. This unconventional method of applying can make job hunting more entertaining.
Trello is a visual project management tool that allows checklists and files to be uploaded on the platform. A project management tool like Trello makes sure that deadlines are met, whether personal or professional. 
Transferwise is the preferred money transfer application by remote working individuals due to cheaper transfer fees and better exchange rates. The application is particularly useful for individuals sending remittances to loved ones abroad or doing overseas transactions. 
With a multitude of reasons a plan can go wrong, a lodging application like Airbnb permits last-minute reservations in cases of emergency. Third-party lodging applications also offer great discounts compared to hotel websites. 
The younger generations have long foregone the belief that people must work hard; they work smarter instead. With the right mindset and tools, digital nomadism can be possible for anyone. However, each person's journey is different – some people can jump head first while the rest need to scrutinize every decision and take more time. Regardless of the timing, digital opportunities are forecasted to grow in the coming years so it will only get better from here. 
Bid traditional work setups adieu because people can now make bank remotely.
Jumpstart your journey with Joblu
Opportunities are limitless, so expand your horizon and open portals to better opportunities for personal and professional growth. With Joblu, you'll be able to discover a wide array of employers which can hopefully help you start your journey as a digital nomad. The best part? The app is free! 

Swipe, match, and be able to work anywhere – with Joblu! Try it today!
Frequently asked questions about digital nomadism
Q: How do digital nomads find jobs?
A: Digital nomads find jobs through online job hunting platforms like Joblu. These platforms can filter personal preference on work approach – hybrid, remote, or onsite.
Q: Can anybody become a digital nomad?
A: Being a digital nomad takes grit, but anyone can do it! The key is investing in honing your skills and quality gadgets to help you get work done efficiently.
Q: How do digital nomads make money?
A: There are 3 main types of digital nomads: self-employed, remote workers, and freelancers. Regardless of which category people fall under, they make money through earnings – from employment or their own business. 
Q: How many hours do digital nomads work?
A: It will all depend on your preference. One perk of remote work is being able to choose your own working hours. However, Project Untethered mentioned that about 30% of remote workers dedicate 40 hours a week in 2022.
Q: What is the most common digital nomad job?
A: Anyone can be a digital nomad as long as your job can be done virtually. Entrepreneurship, content creation, online teaching, and programming are among the variety of options to choose from.