Do you want to know the secret to the success of company marketing? A company's reputation hinges on customers and employees through employee branding – how a company is promoted as a workplace. Companies should prioritize this aspect just as much as customer branding to attain employee retention and avoid bad rep, especially on social media.
Evidently, the younger generation has no issues boldly leaving toxic work environments and posting them all over social media. In fact, the "I quit my job video" trend on TikTok garnered over 100 million views followed by #iquitmyjob with over 70 million. 
With that being said, now is the time to act. With the insurgence of dissatisfied employees, the job market is facing the Great Resignation era. In fact, a 2022 article by McKinsey mentioned that about 40% of workers are considering quitting their jobs within six months, the same percentage as the year before. Hence, this article will tackle employee branding strategies and examples to help companies retain their pool of talent.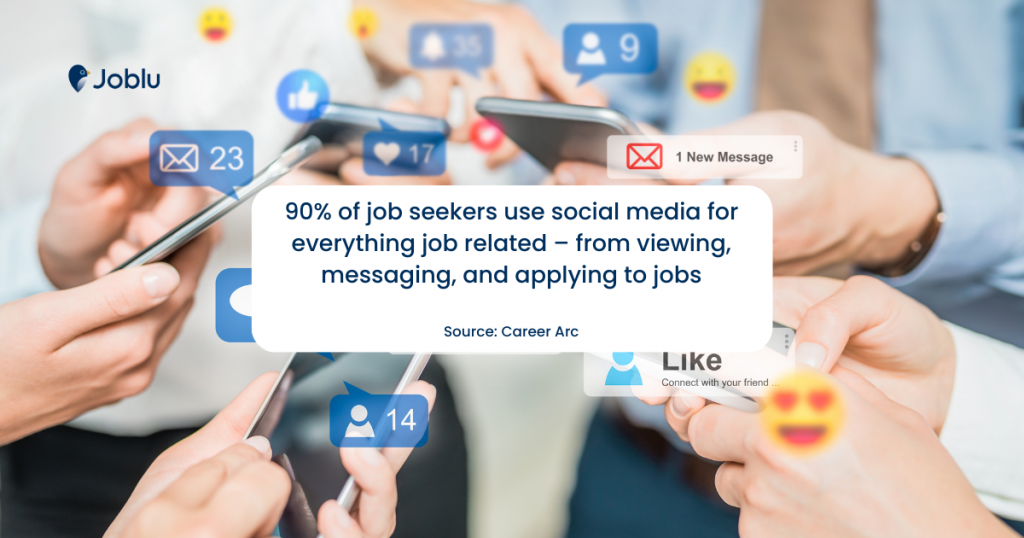 Importance of Employer Branding
Employer branding is crucial in recruitment because it attracts a new pool of skilled talents necessary for the company's growth. When the company is seen as having an appealing work environment on different platforms (i.e. job search websites, social media, etc.) more people will inevitably apply.
As a matter of fact, a 2021 report published by CareerArc mentioned that over 80% of job seekers take the company's brand and reputation into account before applying for a job. The same report suggested that almost 90% of job seekers utilize social media when applying for anything job-related – may it be engaging, messaging, or even signing contracts with the employer.
A 2017 report by CareerArc also reported that around 64% of consumers have stopped patronizing a brand after learning about employee mistreatment. With the prevalence of cancel culture, employer branding on social media is indeed important. The following are some reasons why employer marketing on social media is essential:
Attracts and keeps top talent. According to Glassdoor, a corporate job posting receives 250 resumes on average. When companies effectively leverage social media marketing to reinforce their brand, they can attract the cream of the crop among a sea of applicants and engage with their current team.
Encourages consumers to patronize the product. Social media has the world's eyes at its fingertips. Through effective marketing strategies, companies get to showcase what they can offer and turn consumers into loyal brand ambassadors.
Increases employee productivity and satisfaction. Actively fixating your efforts on social media increases overall company happiness and productivity. Not only does it build a culture of openness and appreciation among your team, but it also helps promote cross-team collaboration.
How to Improve Your Employer Brand
In today's competitive job market, developing a robust employer brand has become increasingly important. The news platform INC stated that 50% of job seekers wouldn't apply to companies with poor employee reviews, yet most organizations continue to neglect the development of a strong employer brand.
Efficient employer branding is straightforward, dynamic, and reflective of the company's organizational goals. When used correctly, it reduces both the time and cost to onboard new hires and improves overall employee retention. Here are some ways you can strengthen your employer brand:
Encourage employees to market your company. Employee reviews are crucial to your firm's acquisition of top-tier talent. If your own team says bad things about you, other people will likely follow suit. Telling your staff to promote your business is the apparent solution to this problem, but for this to happen, they must be genuinely satisfied with their work experience. As such, investing in employee development is key to improving your employer brand.
Identify your goals. Companies with the best employer branding campaigns are aware that setting modest and attainable objectives is key to tracking success. You must come up with a plan for the company's development if you want to reinforce your employer brand. These goals may include striving to hire high-quality candidates, ramping up traffic on your site, or simply increasing engagement rates for your employer brand-related posts on social media.
Encourage employees to market your company. Employee reviews are crucial to your firm's acquisition of top-tier talent. If your own team says bad things about you, other people will likely follow suit. Telling your staff to promote your business is the apparent solution to this problem, but for this to happen, they must be genuinely satisfied with their work experience. As such, investing in employee development is key to improving your employer brand.
Utilize other branding channels. No matter how efficient your employer brand may be, it won't gain much traction if you don't utilize the right channels. To reach the candidates you desire, engage with your team, and establish the reputation you deserve, you must use the appropriate branding channels. For instance, you can take advantage of employer branding on social media platforms like Facebook, TikTok, and Instagram to promote content about your brand or increase engagement with potential candidates. You can likewise use employer branding channels like Joblu to help you build a robust brand presence and tap into a young, hungry, and skilled talent pool. 
Employer Branding Strategies You Need to Master
There are some additional tricks that employers can utilize to reinforce their reputation in a candidate-driven market. After all, job seekers don't just want to accept that coveted job offer, they also want to resonate with your organization's goals, vision, and mission which would help them be efficient and stay long-term. You can argue that even the best employer in the world won't survive long if it fails to establish its reputation strategically.  
As a global top employer, you need to focus your efforts on curating your company culture for your future employees. Let's look at three of the best employer branding strategies that you can work on.
1. Conduct a clear-cut perception audit
Auditing your company's perception is a key step in developing your employer branding strategy. Through efficient HR branding audits, you can take a closer look at how your current employees and audiences perceive your brand, and if your current reputation reflects the values that you want to show. There are several ways to conduct an employer branding perception audit, including employee review sites, social media platforms, and alerts on search engines.
2. Build a distinct employee persona
The best employer in the world knows what an ideal employee is, period. Since the employee persona is a cornerstone of an employer branding strategy, HR branding development teams have a mission to target employees that represent the company's aspired skills, personality, and experience. While each role would require different sets of skills and qualities, there should be a template at the fundamental level that would help your employer branding campaign attract the right candidates.
3. Craft a compelling Employee Value Proposition (EVP)
An employee value proposition (EVP) is a company's commitment to its team, and as such, it is another integral part of your employer branding strategy. They include rewards that employees can enjoy when they perform excellently at work (i.e. holiday allowances, opportunities for professional development, etc.). However, most companies still fail at crafting compelling EVPs. An effective employer branding campaign focuses on analyzing its employees' goals, motivations, and interests. From there, you can connect your EVP to your employees' unique desires in a positive, fulfilling manner.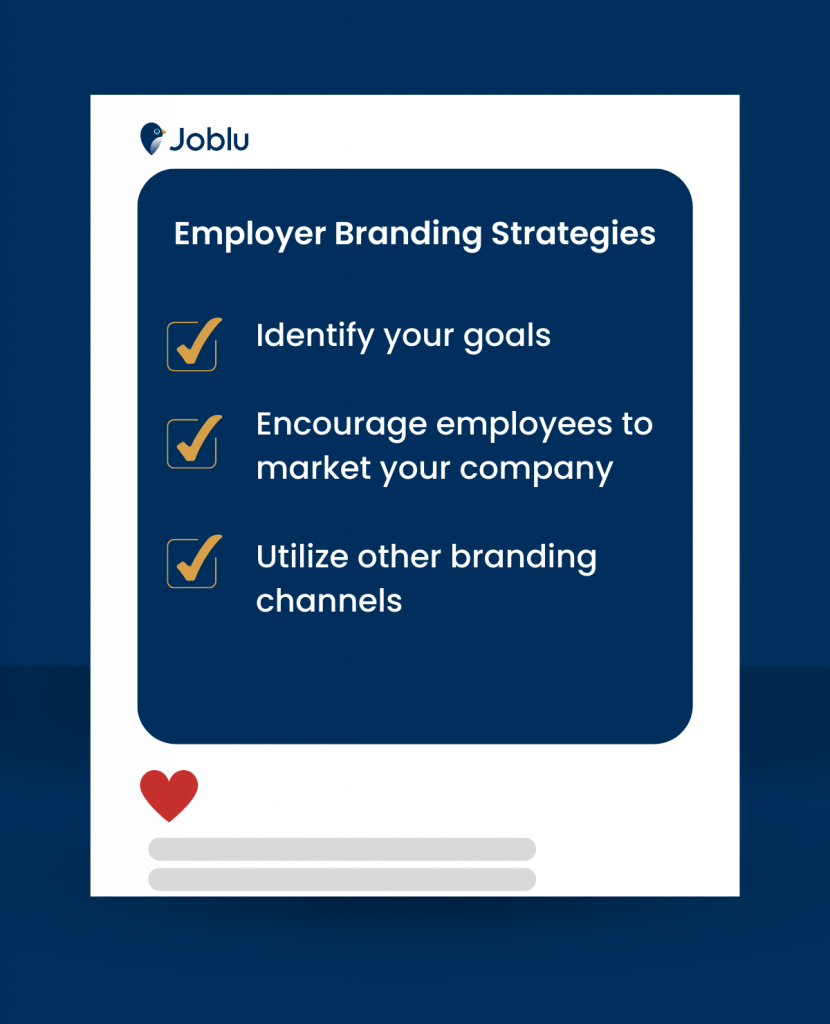 Examples of Companies with Great Employer Branding on Social Media
Employer branding on LinkedIn isn't something that always works because job seekers spend more time outside of the platform. The following are employee branding examples taking the digital world by storm by showing their company culture on more youthful social media platforms:
TikTok has been the catalyst for trends – from dances to memes. According to Demand Sage, TikTok is ranked 6th among all social media platforms, with about 1 billion videos watched every day. Utilizing the platform, an employee branding example marketing to the youth is Duolingo.
Through short-form videos, Duolingo's TikTok  was able to gain popularity and now has over 5 million followers. Through its mascot Duo, the account promotes the application through up-to-date audio and meme references, as well as witty skits teasing the company's legal team. 
While its first few tutorial videos were informative, they never quite reached more than 100,000 views. When they changed the marketing strategy from informative content to entertainment, it clicked to the market and garnered its first million views. Since TikTok is more modern compared to other platforms, being on it requires knowledge of trending audio and expressions. 

Duolingo's successful marketing strategy of utilizing a POV strategy through the mascot has made viewers feel that the company is fun to work for. As a result, sticking to their branding strategy on TikTok increased sales to over $70 million in 2022.
US-based Cisco is undoubtedly applying the best employer branding strategy in its employee experience. In fact, the Fortune 100 Best Companies to Work For ranked Cisco as the top company to work for in 2022. After conducting a survey, 96% of its employees describe the organization as a wonderful place to work. Moreover, Cisco is also included in the top 5 in the following lists: Best Workplaces for Women, Best Workplaces in Technology, and Best Workplaces for Millennials, among others.

To prove that employer branding in recruitment is vital, there are currently thousands of satisfied employees at Cisco, and they still receive great reviews from employees on other platforms like Indeed. A staggering number of 6,200 employees gave the company four stars on Indeed, which is quite high for a large multinational company.
Patagonia is a well-known outdoor clothing company headquartered in the US. The company boasts a robust culture with a specific focus on corporate social responsibility.
Patagonia hinges on CSR as the backbone of its employer branding – having donated over $185 million to environmental NGOs, along with $35 million in investments to socially responsible groups. The company, in its mission to advocate its business as an "instrument to protect nature", has created a powerful value that sustains corporate culture.
As a result, the company reported $1 billion in 2018 and an employee turnover rate of 4%.
Capital One is a US-based financial conglomerate with excellent employer branding strategies. Voted as one of the Top 15 Places to Work in the UK, the company has worked toward a relaxed office environment and an overall friendly work culture. These efforts are not easy to make in a highly-regulated financial sector.
Capital One has likewise made transparency and openness a focal point in its marketing campaigns, even going as far as opening up about its business obstacles on social media. These strategies are uncommon but strategic to bring the Capital One brand closer to its customers and future employees.
Multinational BPO company TaskUs is headquartered in Los Angeles but has a number of offices across the globe. According to a Comparably survey, 94% of TaskUs believe that they are employed in a positive work environment. 
TaskUs co-founder and President Jaspar Weir repeatedly emphasized the value of building a formidable company culture, so much so that TaskUs executives have established cultural pillars that foster respect, teamwork, and excellence. The company's Employee Value Proposition also includes some of the world's best employee benefits, including a 120-day paid maternity leave and a slew of scholarship programs.
Canva, the most talked about platform that turned regular human beings into full-blown graphic designers, was recently named 1 of 50 innovative companies by Fast Company. Canva's meteoric rise to success is attributed to its elite-level employee branding, which is founded on the principles of genuine partnerships and teamwork. In communications, the graphic design tool focuses on telling genuine employee stories. People at the core of your organization can, after all, provide the most truthful account of your employer brand.
Jessica Beard, Canva's Global Workforce Program Manager, also highlighted the importance of knowing how to connect with new talent. Canva can attract young and elite Gen Z talent because the company makes itself easy to access. It hosts a plethora of student recruitment events, where they can discuss the company's values and provide a transparent overview of the Canva work environment. These events not only allow Canva to demystify its employer brand to potential employees, but also transform the company into a unique and healthy workplace.
Salesforce, a CRM software company that aids companies with marketing, IT, and eCommerce integration, is one of the best examples of robust employee branding. It has undeniably become a roaring success in recent years due to its employee branding strategy of being a tightly-knit family. 
Salesforce executives have famously dubbed its strategy "Ohana" which is built on a community of camaraderie, trust, and inclusivity. The company's social media presence has also been filled with highlights of its stellar work culture, and in retrospect, 92% of Salesforce employees believe that the company instills a positive work environment.
By now, you should know how employer branding on social media is vital to keeping employee satisfaction and attracting more talent. With the tips and employer branding examples mentioned above, analyze which steps and platforms align with the company's vision and start from there.
Attract Fresh Talent with Joblu
As an employer, a company must look modern and engaging to find fresh talent which is why being present on other recruitment platforms will increase company visibility to job seekers. Since the younger generation prioritizes convenience, they are on easy-to-navigate applications like Joblu. Employers and job seekers can both swipe and match as you would in a dating app!  By making a profile on the app, the recruitment platform can also highlight your company's work culture, benefits, and perks to encourage applicants to match.
At the same time, Joblu's JobReel feature allows employers to watch a 30- to 45-second video about the applicant to get to know them and know their skills. If you are an employer and dread going through a hundred CVs, swipe to find your match!
Frequently Asked Questions About Employer Branding
Q: What do you mean by employer branding?
A: Employer branding is how the general public views a company as a workplace which (in essence) can affect the company's overall brand image and revenue.
Q: Who is responsible for employer branding?
A: An employer branding manager is the best person for the job. However, you can always distribute roles between the CEO, HR, and Marketing departments. 
Q: What is the initial step in employer branding?
A: The initial step is to analyze the company as a whole and determine its goal. 
Q: What is an example of employer branding?
A: An example of employer branding is highlighting employee perks like flexible schedules, paid birthdays, or professional development courses, among others.
Q: How do you create your own employer brand strategy?
A: While employer branding agencies are always an option, companies can employ numerous strategies to boost their respective employment brands. You most often start by setting goals, developing a candidate persona according to your company's values and objectives, and crafting a compelling Employee Value Proposition (EVP).