Ghosting, it appears, is not just a modern dating phenomenon. You're probably familiar with this scenario: after applying for a job that you seem perfect for, you nail the series of interviews and tests. An interviewer perhaps even tells you you're a top contender for the role. At the end of your final interview, your prospective employer leaves you with the line: "We'll get back to you as soon as the results are in." You patiently wait for their call. One week, two weeks go by without a word from your recruiter. You send a carefully worded follow-up email and wait. Another couple of weeks fly by and still, not a word about your application.
Yes, you've just been ghosted after your job interview.
In recent years, especially in the wake of the post-pandemic world, the recruitment industry has been seeing a rise in job candidate ghosting. But job seekers are quick to note that they've been ghosted by employers and recruiters for so much longer. In the 2022 job candidate report, 75% of the 1,500 job applicants they surveyed say that they've been ghosted by a recruiter after an interview, and 77% noted that they've been ghosted by employers since March 2020 when the pandemic started.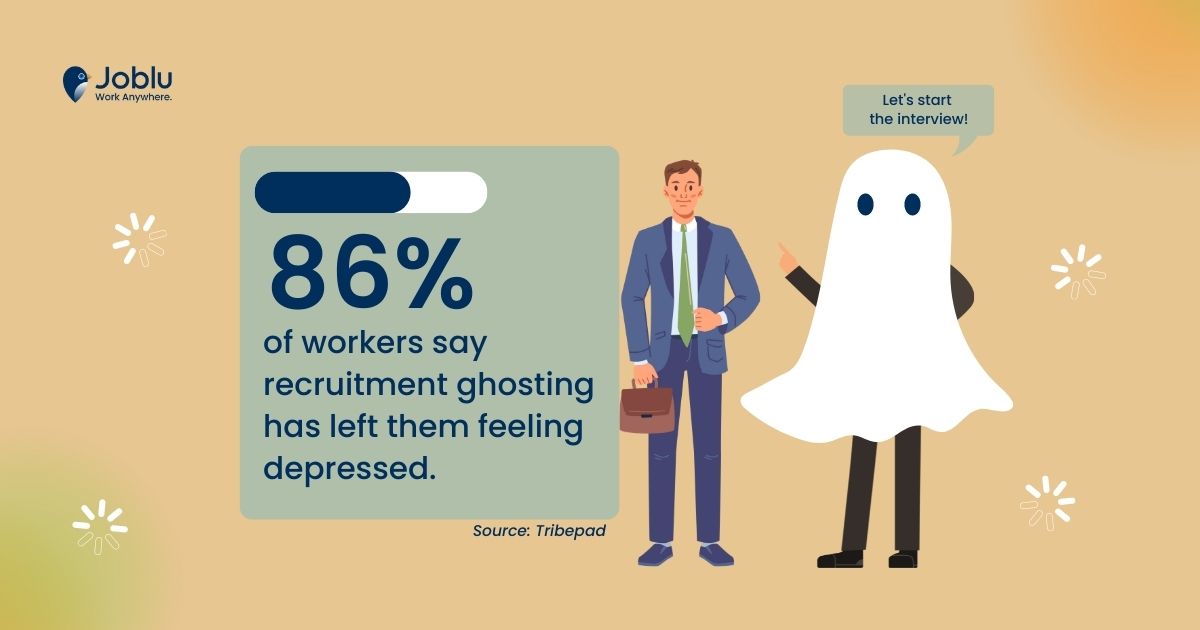 It's a serious problem that's negatively impacting not just workers' mental wellbeing but also company brands. A Psychology Today article outlines how normalizing professional ghosting can have ill consequences for both sides. It can trigger feelings of social rejection among jobseekers while depriving them of other more fruitful opportunities. It's so bad that in a recent survey, 47% of women say they would rather be ghosted on a romantic date than a prospective employer. Companies, on the other hand, can suffer from negative press, as social media has now made it easier for disgruntled workers to air out their negative hiring experience.
In this blog, we'll take a closer look at recruiter ghosting, or the phenomenon of getting ghosted by employers. We'll look at the possible reasons it occurs, how you as a job seeker can avoid it, and what to do or how to react if it happens to you.
Why job seekers are getting ghosted by employers
Recruiters have had a bad rap for ghosting after job interviews. Some job seekers have even reported being ghosted after a job offer. Labor experts note that this is a reflection on companies, mostly big ones with a huge roster of workers, that do not place enough value on human resources. The bad habit, it seems, only came under closer scrutiny and became even more magnified during the pandemic as job seekers and workers became more empowered to voice out their concerns about the job market.
If you've been ghosted by a recruiter after an interview, any of these could be the reason:
Change of plans in the hiring or talent acquisition
You may have been ghosted after your job interview because of some changes in the company's hiring plans. They've perhaps decided to go for an internal candidate. Or, they may have over-hired and decided to freeze hiring for several positions, including yours.
Change in hiring personnel
If you've been ghosted by a recruiter after your interview, it might be because that recruiter is no longer responsible for the position you've applied for. They may have left the job or transferred to another role or account.
The hiring personnel in charge has gotten ill or is on vacation
Your recruiter may have ghosted you after your interview because they've been taken ill or have had to go on emergency leave to care for a sick loved one. Some recruiters might inadvertently ghost job candidates because they're off on vacation.
Too many applicants vying for the same role
If you've been ghosted by employers after applying for an in-demand job, chances are you're not the only one. They may have a small hiring staff juggling too many applicants and your application may have gotten lost in the shuffle.
If you haven't heard back from your prospective employer for a while, perhaps the hiring process for the role involves a lot of decision-makers and is therefore taking longer than usual.
3 Ways to avoid being ghosted after a job interview
While the reasons for employer ghosting are largely out of your control, it won't hurt to take any of the following steps to avoid its occurrence.
1. During the interview, ask for a timeline of the hiring process
To help you manage your expectations, ask your recruiter about the stages of the recruitment process. Ask for a rough timeline and decide for yourself if you're willing to wait. You can also use this timeline as your guide when following up.
2. After the interview, send a note of thanks
Apart from being a polite gesture, sending a quick note of thanks puts you on the virtual top of the pile for recruiters. It shows how you're willing to extend your effort in showing your appreciation.
3. Line up other opportunities and let your prospect know
Interviewing for various positions allows you to have more options and just makes sense if you're looking to be employed. As added leverage, you can use this information to create a sense of urgency in your top prospect.
What to do if you've been ghosted by a recruiter after an interview
Job seekers have reported different types of ghosting from recruiters. Some of them have experienced getting ghosted after one interview, which is the most common. Others have gone through several rounds of interviews and tests, only to be ghosted by the employer after. Then there are those who unluckily experience employer ghosting after a job offer. So what do you do if any of these happens to you?
Reach out to another person in the company
You can either look up the company on social media and reach out to another employee for help. If you've been referred to the position by someone within the organization, ask for that person's help.
Use a different method of communication
If you've been communicating via email, try other online messaging tools, social media, or the official company phone number if it's published online.
Let the company know about your hiring process experience on employer review sites. Specify the type of employer ghosting: if you were ghosted after several interviews or if you've had to deal with employer ghosting after a job offer. This is for the benefit of job seekers like you and for the company itself, as they may not even be aware there's an issue on their end.
If you've tried everything you can, perhaps it's time to just accept you've been ghosted, cut your losses, and move on to another opportunity.
For the most part, there's not much you can do if a recruiter ghosts you. The reasons are more than likely not just about you — there could be changes and processes within the company that are simply not within your control. Don't let an event like this dishearten you. If you've had an employer ghosting after a job offer or interview, treat the experience as a course correction. Perhaps it's pointing you toward another opportunity with an employer that might value your contributions and talents more.
Download the Joblu app for a seamless, efficient, and exciting job search experience. No need to worry about getting ghosted after an interview here. Match only with verified and vetted agencies and companies with a swipe and be a step closer to finding and landing your dream job — no matter where it is in the world.
Frequently Asked Questions About Being Ghosted After a Job Interview
Q: Is getting ghosted after an interview normal?
A: Being ghosted after an interview is a typical occurrence, though it should not be considered a normal practice. Not only can it affect a job seeker's mental health but it also reflects badly on a company as well.
Q: How do you know if you've been ghosted after an interview?
A: You've been ghosted after an interview if you don't hear back from a recruiter after at least three follow-ups. 
Q: Why do recruiters go silent?
A: Recruiters sometimes go silent when there are changes with the company's internal processes: the hiring for the year may have been scaled back; they may have gone with an internal candidate; or there's been a change in the hiring personnel. 
Q: My employer ghosted me after the job offer / I was offered a job but haven't heard back. What should I do?
A: If a friend told you, "My prospective employer ghosted me after making an offer," what would you advise them to do? Oftentimes, the solution feels more obvious when it's happening to someone else.
If you're still keen on the job even after the unsavory experience with the employer, follow up within a timeframe that feels reasonable to you so you're not missing out on seeking out other opportunities.
Q: Is two weeks too long after an interview?
A: Two weeks is a reasonable amount of time for employers to finalize their hiring decisions. That's why it's typically the estimated timeframe given by recruiters to their applicants.