On women's day, Joblu celebrated the occasion with an online event together with some of the biggest names in the human resources and LGBTQIA+ communities. The online event titled "Making the Cut: Gen Z's Guide to Getting Hired & Navigating a Diverse Workplace" aimed to provide Gen Zs with insights on how to discern if companies are truly committed to DEI initiatives, equip them with knowledge on how to build career readiness, effectively navigate the workplace, and understand their rights. All four panelists weighed in also on their personal take on diversity, equity, and inclusion in the workplace.
From Boomers to Gen Zers: How the Job Market is Changing, with Darwin Rivers
The first speaker of the event was Darwin Rivers, the Founder and CEO of the Philippine HR Group, Inc. According to Rivers, the workplace landscape is rapidly changing, with Millennials and Gen Zs taking over as Baby Boomers retire. The COVID-19 pandemic has also brought to light the importance of a multi-generational workforce and the unique values, skill sets, and aspirations each generation brings. Among the current workforce, Gen Zs and Millennials make up a significant chunk and have had to re-evaluate their career goals and expectations as a result of the pandemic.
Rivers mentioned how the younger generations have shown resilience in adapting to the virtual environment and utilizing technology to enhance their career journey. He also believes that they are highly sociable, creative in content creation, and easily influenced by what they see online. Aside from that, he mentioned how they are quick to adapt as the pandemic nurtured an entrepreneurial spirit among them, with many starting their own businesses to survive.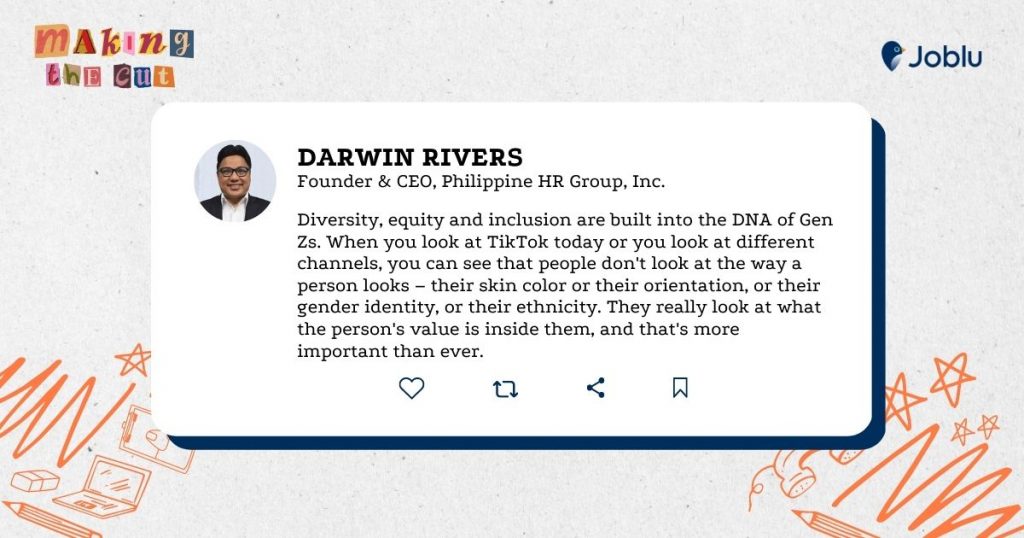 As such, employers must take note of how they can prioritize the needs and expectations of the younger workforce. By understanding and embracing the unique characteristics of this younger generation, companies can create a more inclusive and dynamic workplace that benefits everyone. To name a few, he mentioned the following DEI initiatives companies can start with:
Being able to support employee mental health

Providing opportunities for growth and development

Taking into account the changing landscape in a post-pandemic world
The Gen Z Job Seeker's Guide to Finding an Inclusive Workplace, with Jeffrey Johnson
The next panelist was Jefferey Johnson, the Senior VP of Human Capital Resource Management of Teleperformance Philippines. He explained how DEI is important, especially in the Philippines, because of historically underrepresented groups like the LGBTQIA+ community, certain ethnicities, backgrounds, gender, or disability. As someone who works for a company that's been certified as a great place to work for five years in a row, Johnson shared some strategies for job seekers.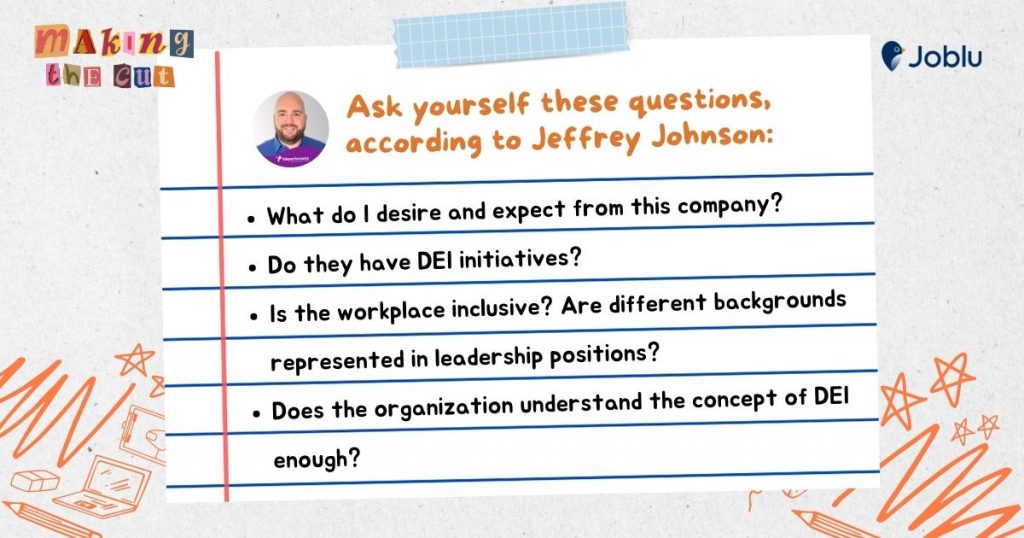 According to Johnson, here are the following questions that Gen Zs can ask themselves to identify if they fit a company's values:
What do I desire and expect from this company?

Do they have DEI initiatives?

Is the workplace inclusive? Are different backgrounds represented in leadership positions?

Does the organization understand the concept of DEI enough?

If so, what can I contribute to their DEI efforts?
Johnson highlighted that job seekers must do their own due diligence and understand their company culture before joining an organization. He suggested that the research process should be seen as a way to maximize the return on investment of one's time, as working for a company requires a significant amount.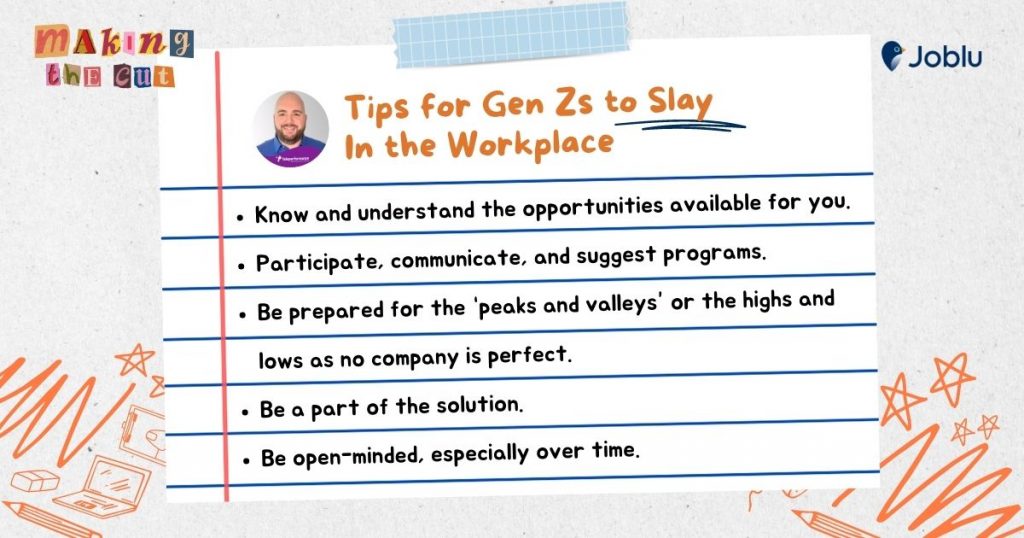 Lastly, Johnson ended his segment with the following pieces of advice to help the younger generation excel in a global and diverse team: 
Know and understand the opportunities available for you

Participate, communicate, and suggest programs

Be prepared for the "peaks and valleys" or the highs and lows as no company is perfect

Be a part of the solution

Be open-minded, especially over time
Gen Z's Impact on Changing Corporate Culture, with Atty. Quino Reyes III
Johnson's segment was followed by Atty. Quino Reyes III, the Director, Legal Counsel and Corporate Secretary of the LGBT Chamber of Commerce Philippines. During his presentation titled "The Balancing Act," Atty. Reyes highlighted the changing nature of corporate culture from a "take it or leave it" approach to a more genuine bargaining process where both employers and employees see if they are a good fit for each other. He shared studies that have shown that Gen Z employees, who make up around 37% of the global workforce, have a particular belief in their bargaining power as workers and are looking for specific demands from their employers, such as financial compensation, work-life balance, and retirement and insurance benefits.
Atty. Reyes also discussed the importance of DEI in the workplace, particularly concerning the LGBTQIA+ community. He mentioned that research has shown that one in every six people in the United States identifies as LGBTQIA+ and that almost 85% of Gen Zs value DEI in the workplace. He then shared that both LGBTQIA+ and Gen Zs look for specific DEI initiatives in a company such as the following:
Atty. Reyes emphasized the importance of finding the right fit between employers and employees, where their goals and values are aligned and they can both benefit from their relationship. To make this possible, he mentioned the following tips:
The Importance of Applicant and Employee Satisfaction in Customer Service, with Andy Sarakinis
The last segment was done by Andy Sarakinis, the VP of Global Operations of Nearsol Philippines, and it focused on the importance of cultural fit when looking for a job. He emphasized that it is not enough to simply look for a job; one must also ensure that the company's culture aligns with their own values and goals. He encouraged participants to ask questions about the company's culture during interviews and to consider the applicant's experience when applying for jobs.
Sarakinis also shared his journey of starting off as an agent on the phones doing collections for American Express in the US and working his way up to management positions in the BPO industry. He mentioned his success in the BPO industry is attributed to providing exceptional customer service and positive applicant experience–which is essential nowadays.
Throughout his segment, Sarakinis detailed the following as his advice to the younger generation: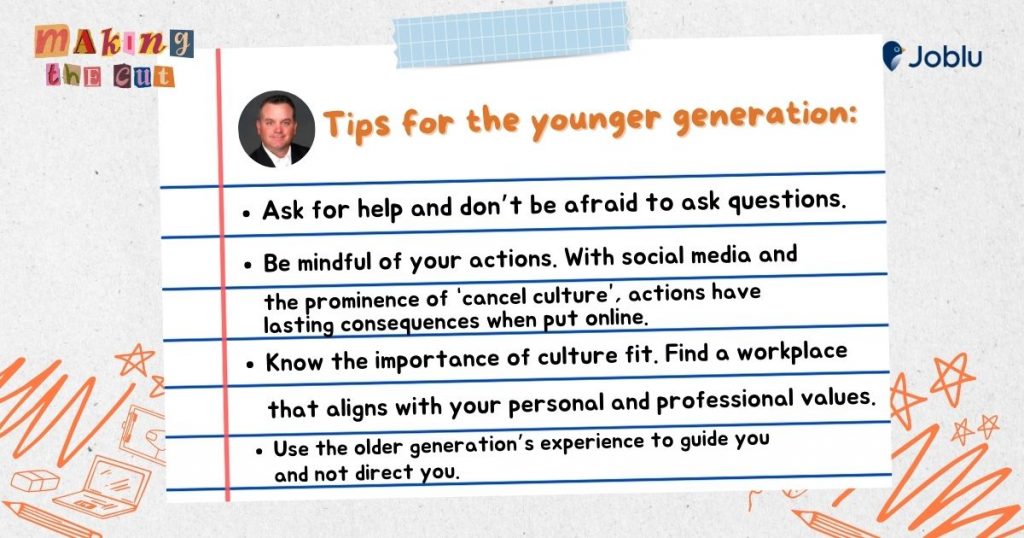 As a field of his expertise, he mentioned the importance of customer experience, which starts with applicant experience. This way, by prioritizing employee satisfaction, companies can create a positive work environment that encourages employees to provide exceptional customer service. This ultimately results in more consumer loyalty, a strong brand reputation, and business expansion.
In conclusion, Joblu's webinar was a success as it provided valuable insights on how to create a more inclusive workplace for the younger generation. The panelists highlighted the importance of DEI initiatives, cultural fit, and employee satisfaction to create a positive work environment that encourages employees to provide exceptional customer service.
Gen Zs and Millennials, who make up a significant chunk of the current workforce, must be equipped with knowledge on how to navigate the workplace and understand their rights. By embracing the unique characteristics of this younger generation, companies can also create a dynamic workplace that benefits everyone. Overall, Joblu's webinar was truly an insightful event where attendees gained practical advice for those seeking to succeed in the job market.
Be in the know of the latest announcements and events. Subscribe to our newsletter or join our thriving online community for updates.