The pandemic taught us the need to prioritize our health and financially prepare for unexpected emergencies. As people acknowledge the importance of financial planning, being a financial advisor is a great profession to consider since demand continues to grow. In fact, GlobalData mentions that the global life insurance market was valued at around USD 2996 billion in 2019, with a compound annual growth rate (CAGR) of over 2% between 2017 and 2021.
These uncertain times give financial advisors a rare opportunity to make a difference in people's lives by guiding them through investment opportunities, especially health insurance policies. There's never been a better time to embark on a career in financial advisory than now. Not only can you help people be financially stable, but you'll also be able to lay the foundation for your own success.
What Does It Mean to be a Financial Advisor?
A financial advisor is a person who offers advice to clients regarding financial matters. According to Investopedia, the term can include a wide range of financial professionals such as stockbrokers, insurance agents, and investment planners, among other money-related professions. 
However, different kinds of training are needed for every career. For instance, to become an insurance agent, you need to follow at least four steps,  as outlined on a 2019 article by Kaplan Financial Education:
Specialize in an area.

Before becoming an insurance agent, you must choose the type of insurance you want to specialize in since there are many possibilities. Some include life insurance, health insurance, property insurance, and more.

Understand basic requirements.

Basic requirements to become an insurance agent include passing a background check and being at least 18 years old, though requirements can vary by country.

Research your country's regulations.

While the article focuses on insurance licensing rules in US states, other countries also have their own regulations. It is important to research your country's requirements by consulting industry professionals or conducting independent research.

Explore different agencies.

It is also important to research agencies that you may want to work for, as different agencies may have specific requirements or processes to follow.
What Does a Licensed Financial Advisor do?
A licensed financial advisor or an insurance agent assesses the client's financial situation, identifies issues or areas for improvement, and recommends investment plans. With the following key responsibilities, according to the SunLife Canada website: 
Seek out potential clients through personal network and local community

Schedule meetings with prospects to discuss their objectives

Offer reliable advice on selecting the appropriate life and death insurance plans for minimized risk

Provide customized financial strategies to help clients with their long-term and retirement plans

Grow your client base through referrals 
The life of a financial advisor can be quite rewarding, as they help clients make informed decisions about their finances, achieve their financial goals, and secure their future.
Potential Income of A Professional Financial Advisor
According to 2023 data from Talent.com, these are the average salaries of  financial advisors in some countries:  
Tips for Aspiring Financial Advisors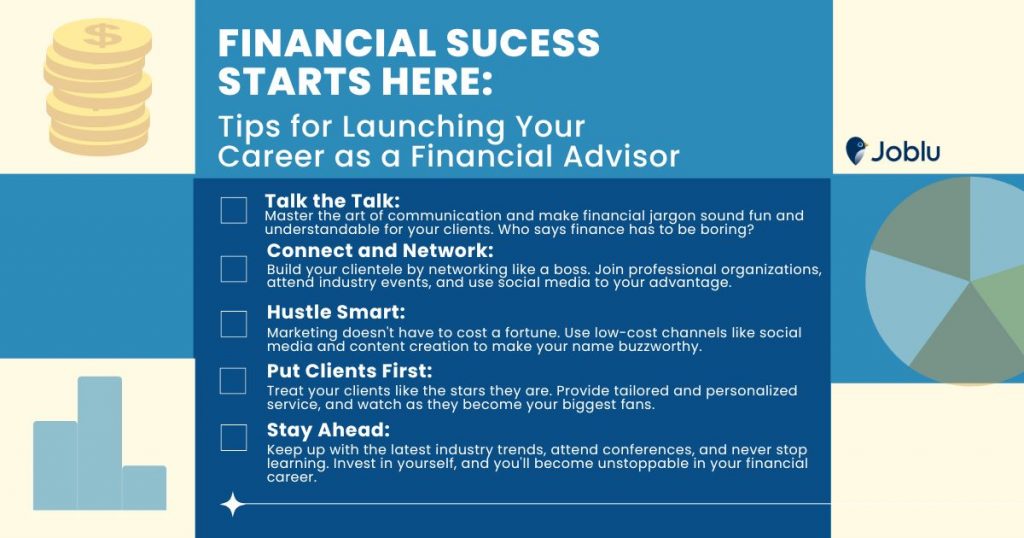 They say that money can't buy happiness, but as a financial advisor, you have the power to help your clients achieve financial security and achieve long term happiness. Here are some tips to become a pro at helping people manage their money while having a positive impact on their lives:
Develop strong communication skills

: The financial industry has a lot of complicated terminologies, and it is for this reason that clear communication is important between you and your client. You could also leverage your communication skills in sales, as they allow you to present your services persuasively and adapt your approach to suit each client's specific needs.

Active listening and empathy help foster trust and rapport, forming the backbone of successful sales relationships in the financial advisory field.
Network to build your client base:

Financial planner duties

include relying on a robust client base, and networking is key to establishing and maintaining relationships. Attend industry events, join professional associations, and leverage social media to connect with potential clients and other professionals in the field.
Utilize free or affordable marketing strategies:

Take advantage of various marketing strategies to promote your services and increase your client base, especially online. Some examples could be content or social media marketing, but choose the channels where you can best align with your target audience. 
Put Your Clients First:

Focus on providing exceptional service to your clients by truly understanding their pain points and goals. Develop personalized financial plans that cater to their unique situations and always prioritize their best interests. A client-centric approach will lead to satisfied clients who are more likely to refer you to their network, boosting your business growth.
Invest In Yourself:

Continuous learning is vital for staying ahead in any industry. Not only does attending conferences or workshops give you added credibility, but it can also help you reach new clients interested in investing.
Being a financial advisor allows you to impact other people's lives on a massive scale – after all, you are their guide towards financial freedom and they rely on your advice for important financial decisions. 
If you want to be a successful financial advisor, you need to be dedicated and passionate about helping people reach their financial goals.   
Joblu can help you embark on this journey!
Are you passionate about helping others secure their financial future? By downloading the FREE Joblu app, you can connect with various companies looking for financial advisors who are passionate about making a meaningful difference in the lives of their clients. 
Pursue your dream career and help others pursue a better future. Download Joblu today and start your journey as a financial advisor!
Frequently Asked Questions About Being a Financial Advisor
Q: Is it good to be a financial advisor?
A: Yes, being a financial advisor can be a rewarding career choice because the job allows you to make a positive impact on people's lives by helping them achieve their financial goals. Financial advisors can also enjoy  flexibility, growth opportunities, and the potential for a lucrative income.
Q: What skills are needed to be a financial advisor?
A: Above everything else, a good financial advisor needs to be an effective communicator. However, they must also have problem-solving and relationship-building skills to retain and attract clients.
Q: What should financial advisors wear?
A: Much like other professions, it's better to wear smart casual or formal attire to convey a polished image to clients.
Q: What is the hardest part of being a financial advisor?
A: One of the most challenging obstacles of being a financial advisor is getting clients because they must consistently network to establish and maintain relationships. 
Q: How do you get clients as a financial advisor?
A: To get clients as a financial advisor, you may network, leverage referrals, utilize digital marketing channels, and provide excellent service to existing clients, which can lead to positive word-of-mouth and increased trust in your expertise.