The last two years have seen the global job market turn into the job candidate's market. This means there are now more opportunities available for the job seeker – but also more competition. Apart from the stiff competition, there's another hurdle that job seekers are now facing with online applications: how to write ATS-friendly resumes.
The use of applicant-tracking systems or ATS in the recruitment process is not new. However, it's now increasingly becoming a standard in the industry. To prevent candidate ghosting, employers now focus on creating better recruitment experiences, using tools such as ATS to achieve them. Therefore, for you to successfully navigate the job market, you need to know how ATS works and what an ATS-compliant resume format entails.
What is an ATS (Applicant Tracking System)?
An applicant tracking system is a software used by recruiters or hiring managers that helps them organize the entire hiring process — from writing the job ad post all the way to making an offer. Anytime you apply for a job through an online form or portal, your application is most likely going into an ATS of some kind. While the software is mainly an organizational tool, it also acts as a primary filter, sifting through thousands of resumes and forwarding only the most relevant job seekers to the hiring manager or recruiter.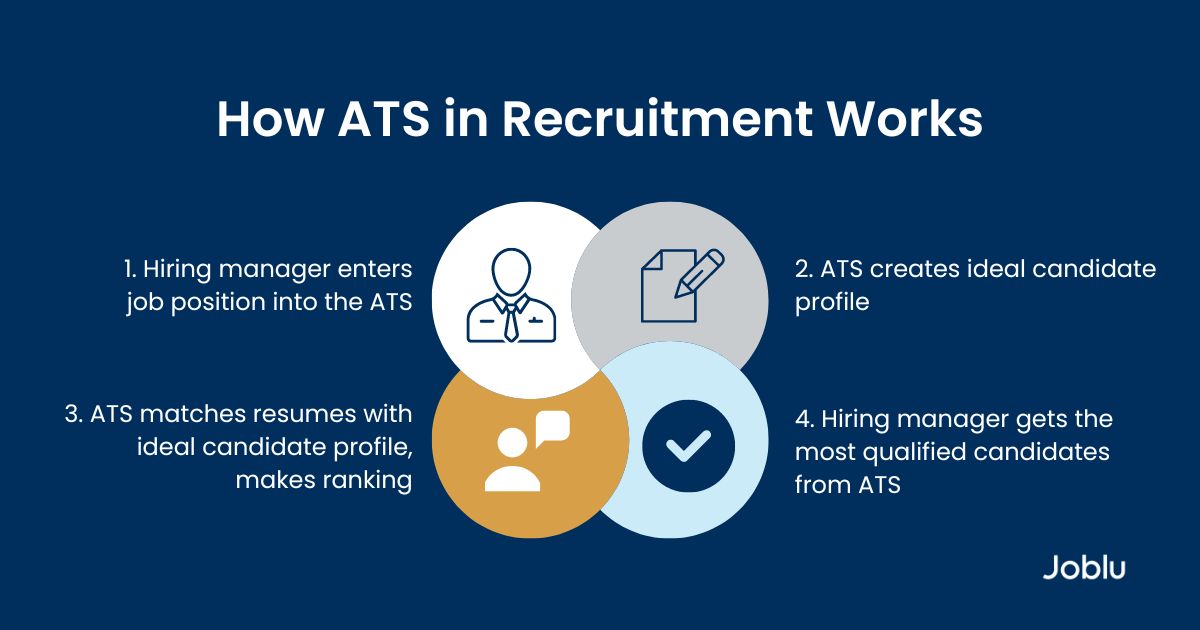 There are now many kinds of ATS available for recruiters, but they follow a similar basic step-by-step process, for the most part:
A hiring manager enters a job position into the ATS. This entry includes certain information about the position such as the job title, desired skills, and experience.

The ATS takes these pieces of information to craft the profile of the ideal candidate.

The ATS uses this profile as its model. It matches resumes submitted through the system against this model and ranks them based on how well they match.

The ATS gives the hiring manager the most qualified candidates based on its sorting.
Why do job seekers need to be aware of how an ATS works?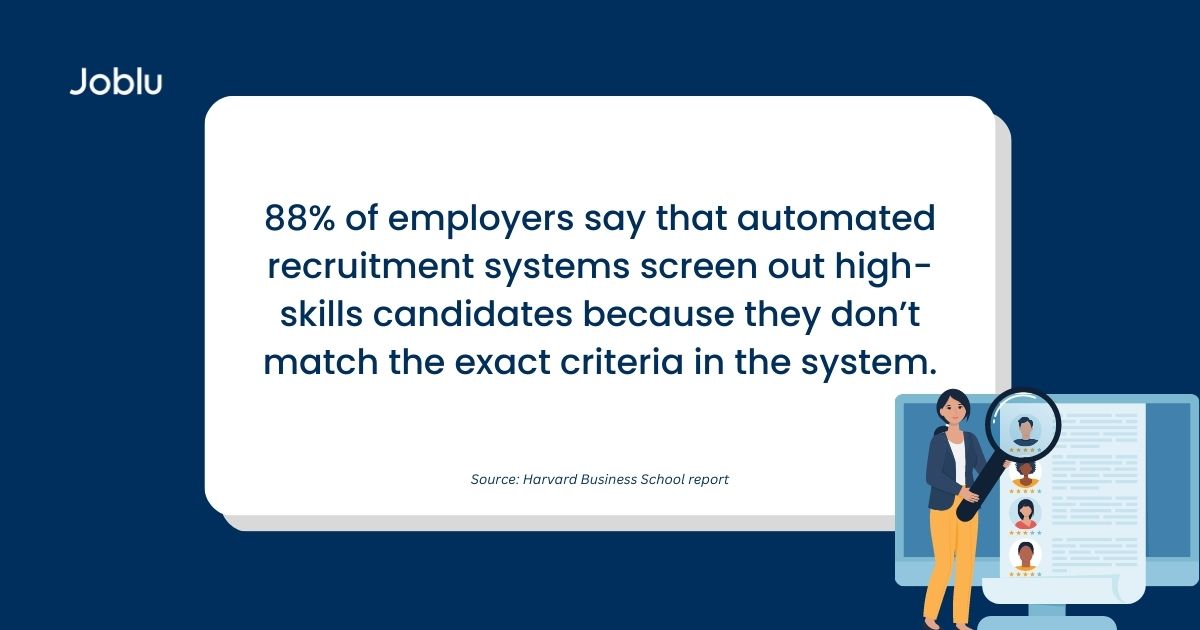 Many companies nowadays, big and small, make use of ATS, especially now that online applications have become the norm. If you're applying online, your resume is being scanned by an ATS of some kind. No matter how good your credentials are, if you didn't submit an ATS-friendly CV, you won't get past the scan. Therefore, your resume might not even be seen by recruiters. This is one of the disadvantages of using automated systems for recruitment. In a report from the Harvard Business School, 88% of employers say that qualified high-skills candidates are often taken out of the race by default, simply because their credentials do not match the criteria embedded in the job description in the system. The number increases to 94% for middle-skills workers.
That's why it's now up to the job seeker to find ways to hack or bypass the system, so to speak, so you won't get lost in the fray. One of the most effective ways to do this is learning 
how to write ATS-friendly resumes.
5 tips on how to write ATS-friendly resumes
Not sure if your resume will pass through ATS? Good news is, writing ATS-friendly resumes is not that complicated. Follow these 5 basic tips to break through the system:
1. Use the right keywords
The most important feature of ATS-friendly resumes is having the right keywords as ATS mostly filters through them. Start with the job title by including the exact job title from the ad in your resume headline. For the body of your resume, review the job description and pick out the keywords relevant to your credentials. Use the exact phrasings as much as possible. For acronyms, include both acronyms and meanings so that the system can easily read and understand them.

One crucial thing to note is that while keyword matches are important for ATS-friendly resumes, many systems are now sophisticated enough to spot keyword stuffing. It's best to incorporate only those that are relevant to your credentials and use keywords sparingly.
Look at any ATS-friendly resume template and you'll see how simple it looks. Most ATS-friendly resumes follow the same style:
Straightforward section headings

Fonts: Arial, Garamond, Calibri, Times New Roman, Helvetica

Font size: 11-12 for regular text, 14-16 section headings

Dates: MM/YYYY or "March 2022" (avoid using years only)
3. Go in the reverse-chronological order
The reverse-chronological resume is the most ATS-friendly resume format. To write a reverse-chronological resume, start with your latest job post and end with your first one. 
How to write a CV that's ATS-friendly for fresh graduates who don't have relevant job experiences? Include your internships, extra-curricular activities, and certificate programs, as long as they're relevant to the job post.
4. Submit the resume file type prescribed by the job form
Most ATS-compliant resume formats are in Word doc files. Some systems don't accept PDF files. There's no guesswork needed here — online job forms will tell you which format they accept, so make sure to save your ATS-friendly resumes in only the prescribed file type.
5. Avoid getting too creative
Crafting an ATS-friendly resume means skipping the embellishments, so don't include logos, images, charts, icons, tables, and columns. Bullet points are recommended — but stick to the basic kind. An ATS doesn't scan headers and footers of documents, so avoid putting information in there.
When crafting ATS-friendly resumes, one helpful principle to go by is to remember: recruiter-friendly resumes are the same as ATS-friendly resumes, meaning they should be easy to read and scan, straightforward, and focused only on the essence — your skills and experience. To learn how to write ATS-friendly resumes is an exercise in clarity. Without cloaking your credentials in fancy motherhood statements, graphic ornaments, and trick to hack the ATS, what exactly do you have to offer?
It's important to get past the system, but it's also equally important to give context to the keywords you've included in your ATS-friendly CV. Remember, getting through the ATS is just one step in the whole hiring process. Once your resume is given the green flag by the system, it still has to be reviewed by a human, who will then have a hand in deciding whether or not you're qualified.
Ready with your ATS-friendly resume? Be one step closer to finding a meaningful job when you sign up for Joblu. This job search app allows you to connect with employers all over the world with a single swipe. 
Frequenty asked questions about ATS-Friendly Resumes
Q: What is the best resume format for ATS?
A: The best ATS-friendly resume format is the reverse chronological format as it is the most easily recognizable by most systems. To write one, simply start with your latest job experience.
Q: How do I know if my resume is ATS-compatible?
A: The easiest way to guarantee that your resume is ATS-compatible is to look at ATS- friendly resume templates or customize one. Here are 5 tips to make your resume fool-proof:
Use the right keywords

Keep your resume simple, using ATS-friendly fonts and font sizes and straightforward headings.

Use the reverse-chronological format.

Submit the prescribed resume file type

Avoid getting too creative
Q: Does ATS look at soft skills?
A: ATS never screens for soft skills. It only scans for hard skills and years of relevant experience. However, including them in your ATS-friendly resume is a must as recruiters deem them highly relevant in their decision-making process.
Q: Is a 2-page resume okay for ATS?
A: Yes, as long as your 2-page resume is ATS-friendly, and as long as you need those two pages to list your relevant credentials. For fresh graduates' CV to be ATS-friendly, dragging them out to two pages might get you flagged.
Q: How do you not get rejected by ATS?
A: First, make sure that you're truly qualified for the post you're responding to. No matter how well you customize the best ATS-compliant resume template available, if your credentials don't match then the system can flag you and filter you out. If you're sure, then your next step is to tailor your ATS-friendly resume for every job post you respond to so that you can incorporate their specific keywords into your file — but only if they do correspond to your skill set or experience.