Ready to level up and apply for a managerial post? Embarking on this career opportunity is not for the faint of heart. Before you start practicing your answers to interview questions for managers, consider the current state of managers in the post-pandemic workplace.
Experts agree that the job of the manager has become 10 times harder in the last few years. Hiring an effective manager has become especially crucial in this era at the tail-end of the Great Resignation, when employee engagement is at an all-time low.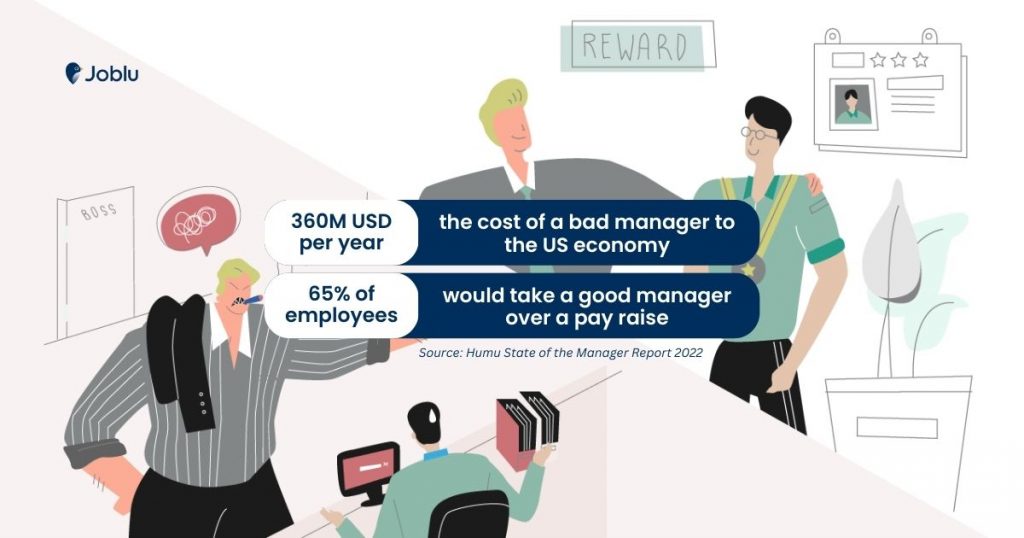 According to the Humu State of the Manager Report 2022, the cost of hiring bad managers in the US economy amounts to 360M USD per year. Not only that — at the organizational level, a bad manager is one of the top causes of employee dissatisfaction. In the same report, at least 65% of employees say they would take a good manager over a pay raise.
Highly effective managers drive 48% greater profits — that's how important they are. So do you think you're up for the challenge? If you are, read this blog to familiarize yourself with the common interview questions and answers for managerial positions. We've also included samples of interview questions for managers in different industries.
Top 5 Most Common Interview Questions for Managers
Relevant skills, experience, and cultural fit are important factors to consider when hiring for any managerial position. Furthermore, recruiters ask the following interview questions for managers so they can find out if you have these top 3 managerial skills:
Strong interpersonal skills

Team-building competency

Ability to inspire and motivate
So when coming up with your answers, think of concrete ways you can best demonstrate these abilities. They can come from your own managerial experience, but if you don't have one yet, you can cite examples from your other leadership experiences at school and other organizations. You can also provide instances that come from your observations of other managers you've worked with. 
1. What's your management style?
In asking this question, employers and recruiters want to get a glimpse of how you lead a team, and if your style can help address the needs of the team you'll be managing. They will want to know your values and beliefs as a leader. However, lofty motherhood statements won't cut it. So when answering this question, provide real-life samples from your leadership experience that show how you bring these value systems into practice.
Sample answer
As a leader, I encourage my team to speak up and acknowledge their input. I've seen how empowering this leadership style is in my own experience as a team leader. Once, we were working on a project with a tight timeline. Everyone was stressed out. Worried about their mental health, I gathered everyone for a quick check-in to see how I could assist. Everyone was at a loss, but then one team member spoke out and suggested a way we could improve our process. I encouraged that team member to elaborate, and on the spot, I decided we should take this opportunity to brainstorm the idea. Implementing the new process suggested by that team member reinvigorated the team. We were able to finish the project within the deadline. But what's more – afterward, the team noted how the process made them feel like their voices and input were important, and this inspired them to work harder. So now, following the success of that experience, we've implemented process brainstorming sessions at the start of every project.
2. How do you motivate your team?
Motivation is a key factor in team management. Recruiters ask this common interview question for managerial positions to further gauge your leadership skills, specifically how you inspire your team through tough situations and goals. Mention your motivational strategies, backed up by knowledge of what factors help increase motivation at work. Again, to answer this question, it's best to provide a real-life example.
Sample answer
As a team leader, I know that recognition is a top motivator at work. I make it a point to highlight each member's contribution to every project when I do my presentations to upper management. Within the team, we also like to hold fun post-mortem meetings where we give special awards to top contributors.
3. Describe a time when you've had to coach a team member. How were you able to help that person improve?
Every team member is different. An effective manager is agile enough to work with a team as a whole and to know when a member needs special focus. A good answer to this common team leader interview question should highlight how you respond to a team member's specific needs, how you solve problems, and how you deal with direct confrontation.
Sample answer
As a senior customer service agent, part of my tasks was to coach new team members. One time, I was assigned to an agent who didn't quite meet his KPIs on his first quarter evaluation. I had three months to help the agent improve his performance. I met with him and together, we identified concrete steps we could take to meet his goals for the next quarterly evaluation. I made sure to check in with him throughout those three months. By the time his 6-month evaluation rolled around, he was able to meet his KPIs.
4. How do you plan to establish rapport with your team?
Recruiters ask this interview question for managers to find out more about your communication and team-building skills. They also want to learn more about how you plan to create a positive team culture and keep your team engaged.
Sample answer
I believe that it's a leader's responsibility to care for the team's well-being at work. In my previous team leader position, I initiated a monthly coffee shop date with my members. We clocked off early from work, went to a coffee shop, stashed our phones away, and promised not to talk about work. The personal connections we built during those coffee shop dates helped our team empathize with each other better and work better.
5. In what area do you think managers often fail?
Acknowledging failures and taking responsibility for them are part and parcel of being a manager. In asking this interview question, recruiters are digging more deeply into your definition of effective management. They also want to see your level of self-awareness and self-management or how you handle failure.
Sample answer
Based on my observation, managers often fail at providing career development support for their team. They're often so focused on meeting project KPIs that they fail to provide feedback and career action plans for their members. This can lead to employee dissatisfaction — people may feel that they're just going from one project to another without any hope of upward movement or development in their careers.
Industry-Specific Interview Questions for Managers
Managerial positions across all industries will more or less have the same expectations. However, every industry has special priorities that recruiters look out for during interviews. That's why you can't expect, say, IT or engineering manager interview questions to be a hundred percent similar to HR manager interview questions or business development executive interview questions. Here we provide two samples each for certain high-demand industries and why recruiters may ask these questions. As with the common interview questions we've cited, it's best to answer these questions with concrete examples from your own leadership experiences.
For hotel manager interview questions, expect your hiring manager to ask you questions highlighting your customer service experience and your problem-solving techniques.
You've double-booked and are at full capacity. How would you deal with the situation?
Describe a time when you've had to deal with a difficult guest.
IT and Engineering Industries
Expect IT or engineering manager interview questions to be laser-focused on technical know-how, and how you plan to work as a bridge between people from different backgrounds.
How do you break down complex projects for your team?
How do you communicate the technical aspects of a project with a non-technical collaborator (client)?
Sales & Marketing Industry
Recruiters ask product and marketing manager interview questions that will bring out the level of your understanding of the latest market trends. They will also likely focus on your exceptional interpersonal skills. You can expect to receive similar interview questions for customer success managers.
How do you maintain relationships with important clients and vendors/suppliers?
What is one marketing strategy you would implement upon joining our team?
In answering these common interview questions for healthcare and hospital managers, demonstrating a strong understanding of a healthcare facility's complex logistics is a must.
Describe a situation when you had to make a difficult decision regarding a patient.
Describe a situation when you had to implement a new policy.
If you're now ready to take on a bigger role in the workplace, start by preparing for your interview. The competition is stiff, so there's no such thing as being over-prepared. While preparing, it's best to practice your answers to common interview questions for managerial positions so you can be one step ahead of the game.
For recruiters alike, hiring the most suitable manager starts with preparing and asking the right questions during an interview. Make sure to align your questions with the goals of your company and the needs of your team so you can make the right choice.
Job-seekers and career-shifters, download Joblu and find a meaningful career opportunity anywhere in the world where you can flourish. Recruiters — tap the most-qualified global talents with a swipe when you sign up for Joblu.
Frequently Asked Questions About Interview Questions for Managers
Q: What are 3 unique questions to ask a hiring manager after an interview?
A: Asking a hiring manager or recruiter questions during or after a job interview shows that you're eager for the job. 
Here are 3 good interview questions to ask a hiring manager after an interview:
What do you expect me to achieve in my first 90 days?

What are the special challenges of this role?

What are the biggest and most urgent concerns of this department or team?
Q: What are 5 good interview tips?
A: Below are 5 good interview tips for job-seekers, whether you're applying for a managerial position or an entry-level one:
Always come on time.

Be prepared – do your research.

Look presentable.

Maintain professional body language.

Ask relevant questions about the role.
Q: What is the STAR method in interviewing?
A: The STAR method is a handy reminder on how you can organize your thoughts when answering questions in an interview. 
S – Situation
Describe the situation you were in.
T – Task
Explain the task you had to complete.
A – Action
Describe the specific actions you took to complete the task
R – Result
Close with the result of your efforts
Q: What are the 6 P's of a job interview?
A: The 6 P's of a job interview is a good guideline to ensure a successful interview — both for the applicant and the interviewer/recruiter. It stands for:
Prompt: Start the interview on schedule to show reliability.

Prepare: For the job-seeker, preparing entails researching the company and position beforehand. For the recruiter, preparing means familiarizing yourself with the applicant's resume and other application materials.

Positioning: For the job-seeker, positioning is highlighting why you're fit for the role. For the recruiter, positioning means clarifying the expectations of a role and if it's the right fit, presenting the opportunity in a clear and precise way.

Process: For the recruiter, ensuring that the interview process is consistent with every candidate for the same role is a must. It's up to the job-seeker to turn out a powerful interview process by highlighting their competency.

Professional: A professional interview requires maintaining respectful boundaries between job-seeker and interviewer/recruiter.

Path forward: A recruiter should clarify the next steps following a job interview. The job-seeker should also demonstrate keen interest in the role by following up on the progress of their application.
Q: Which behavior should you avoid during an interview?
A: Being disrespectful is a big red flag. For job-seekers, this means interrupting the interviewer, slouching and avoiding eye contact, and talking badly about past job experiences. For interviewers, this means not maintaining professional boundaries, crossing the line when asking personal questions, and making the interviewee uncomfortable.