The ever-evolving job market's latest trend is changing up the recruitment process with  1 to 2-minute video resumes – or a candidate's elevator pitch. Recruiters, nowadays, no longer want to drown in a sea of CVs and prefer candidates who stand out from the pile. Hence, including them along with a cover letter and a CV will significantly increase a person's chance of getting hired.

According to a 2021 article from The European Business Review, around 60% of recruiters are already utilizing video CVs in the hiring process while over 20% plan to in the future. While there are various reasons recruiters prefer video formats, the most common ones are to test the applicant's communication skills and to filter out people who exaggerate their CVs.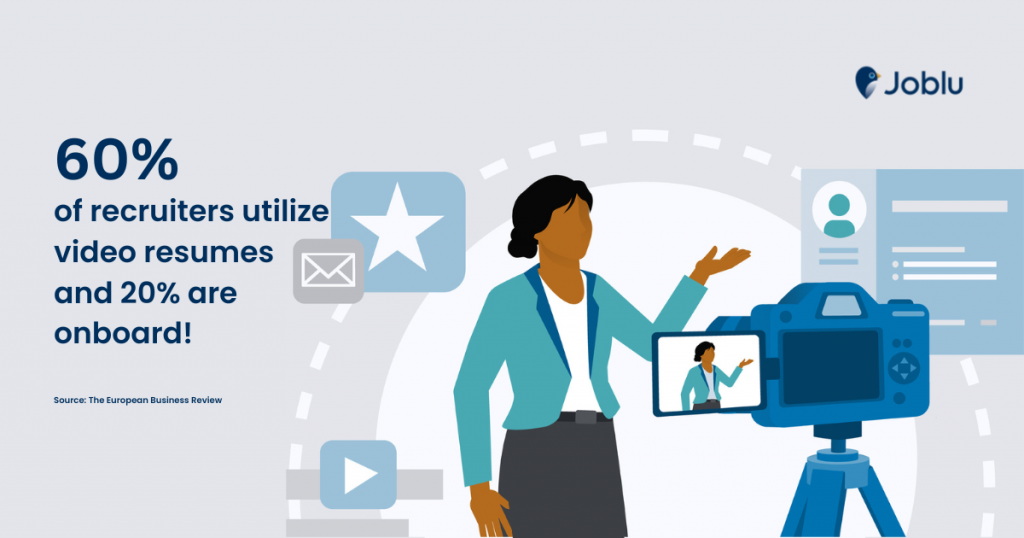 A video resume is much like an elevator pitch that allows candidates to introduce themselves and impress recruiters. The pressure surrounding the topic may be overwhelming considering that you need to make an impact within a short amount of time, but we've got you. This article will tackle everything there is to know about video resumes, including sample scripts and tips in making one.
Video Resumes for Job Applications
Short-form videos are undeniably taking over the world – just look at TikTok. In 2022, Demand Sage reported that about 3 million people have TikTok on their phones. As a result, people have been applying the TikTok formula and using video resumes even for job applications.
If you're a person competing with highly-experienced and tenured candidates, veer away from stuffing your CV with exaggerated descriptions and experiences because a recruiter can sense overcompensation. Instead, help employers have a connection with you through an introductory video. This way, they can associate your CV with an actual person, and not just a name with bullet points.
Why Video Resumes Are Essential Nowadays
Below are the reasons why video CVs are more of a necessity than a luxury:
A video resume can help you stand out from other applicants and make a more memorable impression on employers. In a competitive job market, it can be immensely difficult to get noticed. A well-made video resume can help you differentiate yourself from other candidates and make a stronger impression on potential employers.
A video resume allows you to showcase your personality, communication skills, and enthusiasm for the job in a way that a written resume cannot. Having the chance to address the audience directly in a video CV, you can effectively showcase your enthusiasm and desire for the job. This can be a fantastic approach to dazzle potential employers and convince them that you are the ideal candidate for the position.
A video resume can provide potential employers with a more comprehensive view of your qualifications and experience. In a written resume, you're limited to listing your skills and experiences in bullet points. In a video resume, you can provide more detailed descriptions of your previous work, accomplishments to give them a better sense of your capabilities.
A video resume can help you speak directly to employers. This allows you to highlight the skills and experiences that are most relevant to the position, and demonstrate why you're the best fit for the job. Aside from that, it can build a sense of connection since the tailor-made message seems like you're directly addressing the viewer.
A video resume can be a convenient way to share your qualifications and experience for remote jobs. Because a video resume is digital, you can easily share it through online platforms. This can be especially useful if you're applying for jobs in a different city or country, or if you're unable to meet with employers in person.
Steps on How to Make a Video Resume
Step 1: Make a video resume script
Whether you need one for jobs or internships, scripts for video resumes should always be simple and straightforward. With the limited time given, you should be able to condense essential personal and professional information such as the following:
Name
education
If applicable, include past experience
Display proficiency mentioning requirements
Optional: interests, personality
Call to action
The bullet points above serve as a guide for a narrative because everyone appreciates people who are relatable. To avoid redundancy, avoid mentioning points already included in your CV. Instead, include additional information you think will help you land the job. More importantly, don't forget your call to action because this can help employers know where to contact you.
Sample video resume introduction script for jobs
"Hi!
My name is [name], and I am very much passionate about [insert hobbies and passions]. I believe I will be your next [position].
I have attained a degree in [degree] at [name of school or university] which gave me the opportunity to work as a [insert previous position]. During my time there, I developed [insert projects for previous companies]. My projects then resulted in [result of project]. Then, [other posts if any]. With that, I can confidently say that my current skill set and experience make me a strong candidate for this position.
[Narrate another instance when your skills came in handy]
The job posting mentioned the following roles like [insert job requirements], I can confidently say that [insert why you can fulfill the requirements with past experience or motivation to learn].
Once again, my name is [name], and I can ensure that I can be an asset to the company as a [position you're applying for].
Thank you for watching my video and please don't hesitate to email me for an interview. I look forward to being a part of your team!"
Sample script of video resume for students
"Hi!

My name is [name], and I am very much passionate about [insert hobbies and passions], and it would be an honor to be an intern at your company.

I'm currently taking up [degree] at [name of school or university]. Throughout my time in university, I have launched projects for my organization which resulted in [result of project]. I have also [insert other extracurriculars if any]. I am confident that my professors and extracurricular activities have prepared me to take on first-hand experiences working as an intern for your company.

[Narrate another instance when your skills came in handy]

Once again, my name is [name], and I am sure that I am a valuable asset to the company as a [position you're applying for].

Thank you for watching my video and please don't hesitate to email me for an interview. I look forward to being a part of your team!"

Step 2: Record yourself with a camera or a video CV maker and edit
While it might be intimidating to record a professional video resume sample by yourself, people can produce excellent video content without expensive equipment or staff. After all, authenticity and effective messaging are what give your video resume meaning. Having said that, the following steps must be followed before you press record:
Pick an appropriate location or space. The background must look professional and neutral to help the attention focus on you. Nonetheless, adding a plant or a flower vase can add a pop of color.
Utilize a good-quality camera. Recording on a smartphone, a tablet, or a digital camera is advisable. However, it must be able to produce high-resolution videos or stills, as well as audio.
Edit thoroughly or consider using video CV editing tools. Once you're satisfied with the taken shots, edit the video appropriately and include useful stills like photos with your awards or working at your previous company. This step will make sure that the recruiter has a POV feel and witness your career growth. This way, they'll be able to envision your potential growth for their company.
Step 3: Publish Your Work
The finish line just includes pressing upload. Along with your cover letter and CV, attach your video resume to catch the employer's attention. Then, voilá!
Video Resume Tips and Tricks
Self-recorded videos are a fantastic way to connect with employers and state your claim as the best candidate among an immense pool of applicants. Serve as the company's gateway to see who you are as a human being and a professional.

Let's look at some video resume tips that can take your self-recording skills to the next level: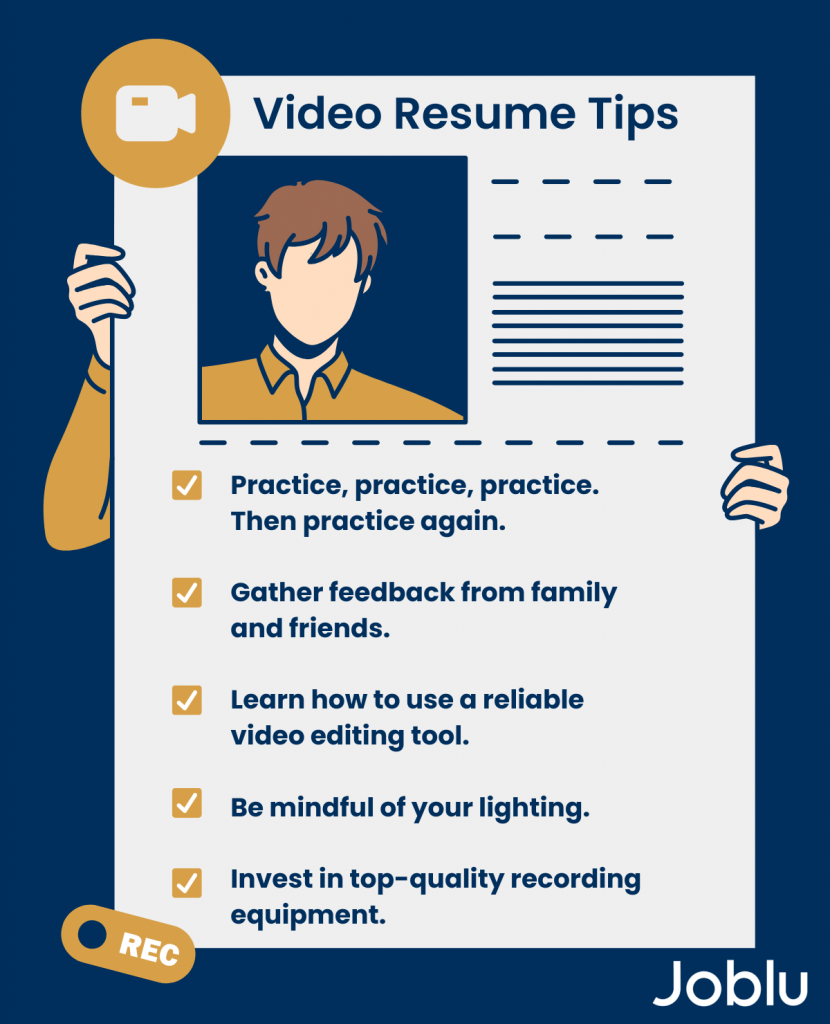 Practice, practice, practice. Then practice again. The proverb "practice makes perfect" might sound like a broken record, but never before has it been more accurate. The only way you can genuinely connect with your employer is by being comfortable on camera, so you have to practice recording yourself. Practice having calm and confident body language that resonates with your goal to look professional.
Gather feedback from family and friends. Since judging your performance on camera can be difficult to do, you can show some sample videos to trusted sources. This way, you can gather feedback on your speech and body language without feeling uncomfortable. This tip is useful for any job seeker, but it is even more critical for fresh graduates. A video resume for students can be daunting to produce, so input from trustworthy people can be your key to success.
Learn how to use a reliable video editing tool. Efficient video editing software platforms can integrate your content production process and turn simple video recordings into beautiful video content. Some online tools have video resume templates that make it easy for you to record and splice different parts of your content, which in turn saves precious time and effort. A video resume editore is undoubtedly the way to go.
Be mindful of your lighting. Lighting can make or break your video. Good lighting can create a positive visual atmosphere for your audience, and bad lighting simply makes you look bad on camera. With that being said, soft lighting is everything, so try your best to use natural sunlight/ring light when recording videos. Avoid overhead lights and backlights that could accentuate the wrong areas of your video environment.
Invest in top-quality recording equipment. While regular recording devices are enough to record a video resume sample for your job application, you may also consider investing in high-quality video equipment. For instance, buying a good microphone optimizes your audio quality and makes your voice sound clear and crisp on camera. A 4K-resolution camera or smartphone, when combined with a reliable editing tool, are also considered game-changers if you want the best video editor resume possible.
Showcase your creativity in other ways if you're camera shy. If you're not comfortable in front of the camera, there's always the option to record your own voice. While you still need a bit of voiceover practice, you're eliminating the dread of being exposed by the brooding eyes of the camera lens. You can even leverage this fear to your advantage by demonstrating your editing or graphic designing skills!
The elements mentioned above are what give video resumes meaning. Lackluster video content for employers simply won't cut it in today's competitive job market, so you need to do your best to stand out. As such, leveraging these smart video content strategies in your arsenal would help you gain traction and catch your future employer's eye.
Make Your First Video Resume with Joblu
Joblu is a modern job platform that lets job seekers swipe and match with employers worldwide–like a dating app! The job search platform's JobReels feature likewise offers a unique job application experience by using a social media-like platform. It makes the process of applying for jobs less tedious and allows job seekers to showcase their personalities and skills in a more engaging way. With JobReels, users have the avenue to truly express themselves and stand out from the competition.
Download Joblu and witness the power of having a video resume sample.
Frequently Asked Questions About Video Resumes
Q: What is a video resume?
A: A video resume is a short video that is used to introduce yourself to employers. It is a perfect avenue to showcase a person's professional and educational background to recruiters through a minute or less video.
Q: Are video resumes a good idea?
A: Absolutely! A video appeals to recruiters because you can make it into a narrative instead of just mentioning previous experiences. After all, video resumes can help employers get a better sense of the job seeker's fit for the role and company culture, and can also make the job seeker more memorable.
Q: What is the ideal length for a video resume?
A: A 35-second to 1 minute video CV should suffice because you wouldn't want to bore the recruiter with unnecessary details.
Q: What are the dos and don'ts in a video resume?
A: Here are some dos and don'ts for creating a video resume:
DO
Keep it short and to the point. Your video resume should be no longer than 2-3 minutes.
Dress and groom yourself professionally. You want to make a good impression.
Use a good-quality microphone and camera to ensure your audio and video are clear and high-quality.
Practice before you start recording. This will help you feel more comfortable and confident.
Highlight your skills and experience, and explain why you are a good fit for the job.
End your video with a call to action, such as asking the employer to contact you for an interview.
DON'T
Use many filler words, such as "um" and "ah".
Read from a script. You want to come across as natural and authentic.
Include any personal information you don't want the employer to see.
Make any inappropriate or offensive comments.
Use distracting backgrounds or music. Keep it simple and professional.
Lie or exaggerate your qualifications or experience. Be honest and truthful.
Q: What do you say at the end of a video resume?
A: A call to action is the perfect way to end the video by asking the recruiter to contact you via email or mobile to set up an interview.