In the post-pandemic era, it comes as no surprise that the number of people trading on-site jobs to become digital nomads is increasing rapidly. A 2020 report by Owl Labs mentioned that 16% of companies worldwide are fully remote while 56% allow it. 
What's with digital nomadism that people embrace it so much? There are a multitude of reasons why people are making the switch, and it's not just the pandemic. This article will feature stories of three digital nomads living different lives, and  have fully transitioned to remote working and digital nomadism. 
Is it as glamorous as what the internet portrays? What are their reasons for being one? Let's see what they have to say.
Becoming a Digital Nomad as an Entrepreneur
As someone who's left home to travel at least once a month, 25-year-old Sydney Addis is the textbook definition of a happy digital nomad. Before being an entrepreneur, Sydney was engaged in nomad remote work.
She has always had flexible hours since she was 18 years old. While she was a student at Tulane University in New Orleans, Sydney learned about social media management and started doing it for extra income. From then, she took on internship and freelance opportunities that gave her the flexibility she has always needed. 
According to her, the remote work model inspired her to put up her own business. In 2020, she took the risk of hiring her first contractor which helped her grow her business to what it is now. Her humble beginnings led to a flourishing digital marketing agency which currently has a team of 10 people – The Inspiration Agency. 
"The biggest pro [of being a digital nomad] is being able to live a flexible lifestyle according to your own rules. While I love my friends from home, it's quite the contrast to see everyone working the way we were taught to when we were young. They all got good grades, went to a good school, and are working their way up the corporate ladder, and sticking to this-is-how-you're-supposed-to-live-your-life mentality. For me on the other hand, I have made international friends and have places I can sleep all over the world, lived in a handful of different cities, and am able to live life on my own terms.
However, the biggest hardship of being a digital nomad is the lack of structure. Especially since I am the boss, I pretty much work the oddest hours and feel a bit of pressure to work late hours to be in a closer work day to my US-based clients. I do have certain routines that have helped such as working out after work and not allowing myself to log in again. I use my workout as a way to destress and say to myself  'okay, I ended my stress cycle. I don't need to log in again until tomorrow, this time now is for me.' "
Much like other digital nomad stories, Sydney travels at least once a month with longer intervals during the summer. While she's based in Madrid, she's lived in places like Palermo, Valencia, and Paris for at least a month to immerse herself in their culture. We undoubtedly aspire to be like Sydney, but she emphasizes the importance of having the right mindset to find the right opportunity and manage your own business. 
An Iloilo-based Couple Engaged in Love and Nomad Work
Jayve Morin was born and raised in Manila but decided to relocate to the province of Iloilo to study Information Technology at the University of Antique. While pursuing his studies, he met Ardys Apostol – his girlfriend of 6 years, and now fiancé. Both of them have been digital nomads for almost 4 years, and handle multiple accounts for a couple of remote jobs. According to Jayve, becoming a digital nomad was a no-brainer for the couple because of the following advantages:
Their compensation is significantly higher compared to working for local companies.

They can plan their travels as long as their laptop is with them.

They can attain career growth and financial opportunities in the comforts of their home.

They are constantly exposed to fresh ideas from international clients.
However, Jayve admits that balancing his long-term relationship with nomad work is accompanied by significant hurdles. Despite being confined in a single workspace, the couple sometimes feels like they are separated by their computer screens. They often trade quality time with each other to spend more time talking to clients. More than they would also like, dinner conversation topics often revolve around work and their clients, as well as their work-related woes. 
"More than anything, we chose to have this type of career because social media hyped the lifestyle up. I remember seeing stories of digital nomads who abandon stable jobs to travel the world. However, I think that isn't always the case, especially for Filipinos. We become digital nomads either because of the compensation or the value for time.
While social media made this lifestyle intriguing, I continued to do it so I can focus on what matters to me – my personal time, health, and loved ones. Since Ardys and I sometimes fly to Manila to visit my family, I need to be able to bring work with me. It also helps that we get to go to places, even locally. For me, my job may not be my passion, but it provides me with the financial capability to pursue hobbies I like doing like playing video games!"
Love really does conquer all. While Jayve and Ardys agree that remote life isn't perfect, they also cannot see themselves doing it a different way. The wedding bells are ringing, and we might have a remote wedding. Can you see my screen, Father?
An Educator-Turned-Happy Digital Nomad
28-year-old Michael Lim is a Chinese-American freelancer and entrepreneur based in San Francisco. He has been engaged in nomad remote work for 10 years already. Before then, however, he had worked as an educator who traveled to work every day and drowned himself with work by preparing modules and case studies for his students. 
Aside from the fact that Michael can have more personal time, the laid-back and convenient lifestyle drove him to transition to full-time remote work. He mentions that being able to walk his dog more with a remote job is already a big win. However, like all digital nomad stories, Michael's experience highlights that freelancing isn't a walk in the park. He argued that the lack of team engagement and collaboration in offices is a professional downside of being remote.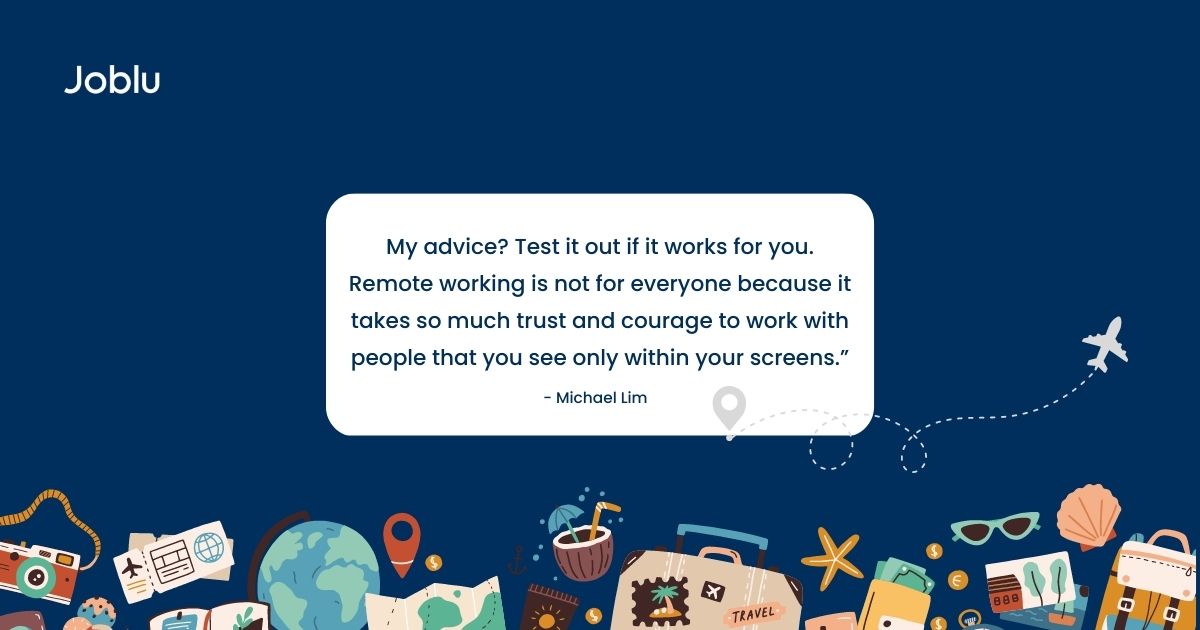 "It has changed my life tremendously! From being the 9-5 and weekend hustler, I can now have more time for family on weekends.
My advice? Test it out if it works for you. Remote working is not for everyone because it takes so much trust and courage to work with people that you see only within your screens."
Out of all the places that Michael has visited, he mentions the Himalayas as his favorite. If things turn out the way they're supposed to, maybe the Himalayas can be our next destination, and not just something we've read in a Reddit thread on digital nomads or a place we've seen on our screen. 
Story of Remote Working Student from Manila
At De La Salle-College of Saint Benilde, undergraduate student Rafael Agcaoili is majoring in game design for interactive entertainment and multimedia computing. Rafael has been working as a creative for two years while juggling deadlines for school-related assignments, coursework, and thesis.
Rafael was initially hesitant to work remotely because he was concerned that being cooped up at home would sap his creativity – his bedroom's four walls limit his creative potential as an artist. He was already a freelance illustrator, but when the lockdown began in 2020, his mental disposition began to change. While everyone was learning how to make dalgona coffee and banana bread, Rafael made the decision to take on the journey of working and apply for remote jobs in search of a steady income.
"My life as a remote worker is nothing like those happy and easygoing digital nomads you see traveling to Bali and having breakfast in a pool. I barely travel because of school and financial constraints. I am also struggling with self-control, time management, and lack of inspiration; but I'm grateful for clients who trust me and help me learn.
Remote work is not for everyone. Discover your personal and professional goals to know what type of work setting fits you, but everything worthwhile takes time. You'll get there."
Rafael is appreciative of remote opportunities since he is able to financially sustain his equipment-dependent program and develop his career by gaining corporate experience–despite being a student. Rafael's journey may seem mundane as he isn't the poster boy of what a successful digital nomad should be, but this journey has undoubtedly taught him lessons that he can utilize throughout his personal and professional life. He is indeed the epitome of a diligent student striving for his dreams which he will eventually attain.
These digital nomad stories aimed to shed light on the different reasons why they decided to be unconventional workers. Regardless of the reason, each person is different, so do your research through Google or read up on real-life experiences of digital nomads on Reddit. Besides, the only person who can decide if it's worth it is you.
Ready to be a digital nomad?
Take the leap by downloading Joblu, making your profile, and swiping through companies offering remote jobs! With hundreds of options, you'll surely match with your ideal company. 
As an employee-first platform, we've got you. We will assist you throughout your Joblu journey. Download the app to discover career growth and opportunities!
Frequently Asked Questions About Digital Nomads
Q: What is a digital nomad?
A: Digital nomads are entrepreneurs, freelancers, or remote working individuals who constantly travel to different locations. These individuals only need stable wifi and their laptops, among other essentials to do their day-to-day tasks. 
Q: Which country is best for digital nomads?
A: While all countries are worth every penny to see, the following have been ranked as the top countries for digital nomads in 2022: Portugal, Indonesia, Thailand, and more.
Q: What are the main downsides of being a digital nomad?
A: A 2022 blog by Citizen Remote mentioned stress, lack of work/life balance, and loneliness are among the disadvantages of being a digital nomad.
Q: How do I become a digital nomad without experience?
A: The key is to search for remote opportunities based on your skills, and start from there. Attend online courses, practice, and do whatever it takes to get noticed by employers. 
Q: Are digital nomads wealthy?
A: Not all digital nomads are (and have to be) rich. However, financial capability is a major factor in being able to live the lifestyle. Digital nomads need to be able to sustain their lifestyle of constant travel, so financial literacy will go a long way. Nonetheless, one does not need to be wealthy to start remote work–as long as you have a laptop and a stable wifi, you'd be able to do it too.