A new year ushers in new opportunities for personal and professional growth. As 2023 begins, it's a great time to think about ways to grow personally and professionally. This National Mentoring Month, we are focusing on navigating the evolving business trends and adapting to change. 
Whether you already have a mentor or are looking for one, mentorship can be a valuable and transformative experience for both parties involved. It can take the form of a formal mentorship program or a more informal relationship, but the exchange of knowledge, guidance, and wisdom can have a lasting impact on personal and professional development. In this article, we will hear from two mentors about their experiences with mentorship and the valuable lessons they have learned along the way.
Why You Must Celebrate National Mentoring Month
World-renowned talk show host Oprah Winfrey once said, "A mentor is someone who allows you to see the hope inside yourself." It can be terrifying to navigate the real world sans experience. Nonetheless, a great mentor can make everything manageable because they also started the same as everyone else and managed to pull through. Sometimes, a bit of encouragement and advice is all everybody needs to know it will turn out fine. 
We all have leaders or mentors who help mold us into successful individuals in our personal and professional lives. With that being said, employee development must be fostered for us to perform efficiently and grow smoothly with an organization. 
Below are activities to ensure that employees learn from mentors' experiences. The month isn't over and here are some last-minute ideas to help your company end the month on a good note.
National Mentoring Month Activities
Making mentoring month a bit special for employees can increase camaraderie in the workplace. Here are some national mentoring month activities for any type of company: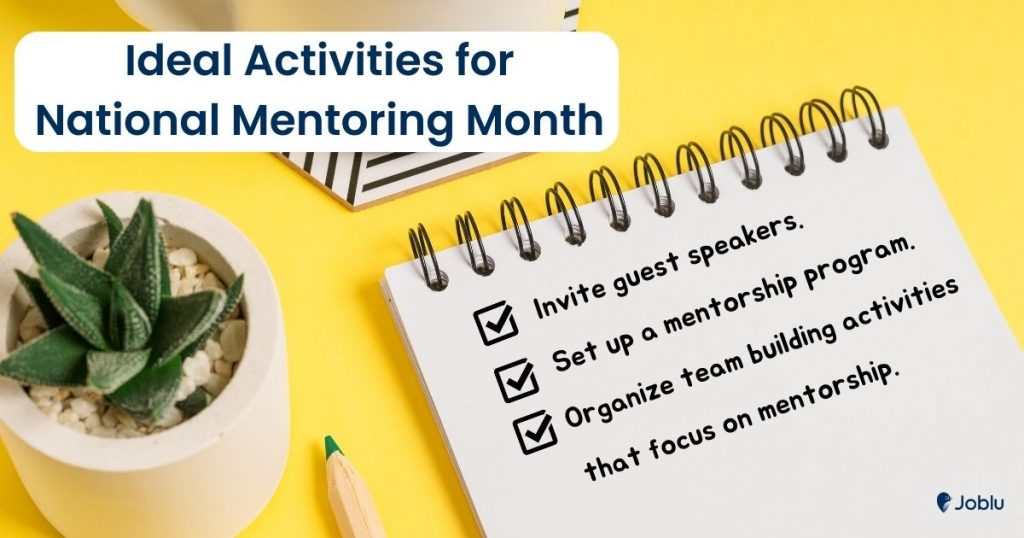 1. Invite guest speakers. This can be an opportunity for employees to learn from experts in their field or from individuals who have successfully navigated their careers with the help of mentors. More importantly, hiring an outsider breaks the employees' monotonous routines. The mentoring month of January is the ideal time to do this, so it ushers in fresh ideas and renewed motivation for everyone.
2. Set up a mentorship program. A 2022 article by Forbes mentioned that companies that invested in mentorship initiatives fared economic instability far better than those that did not. In fact, profits at companies with mentoring programs were almost 20% higher than average. Hence, a mentorship program is a solid national mentorship idea to help mentees train for different scenarios through the expertise of a mentor. Through this initiative, the company will also have the capability to breeze through storms better than other companies.
3. Organize team-building activities that focus on mentorship. These can be activities that encourage employees to work together and support each other, such as team-based problem-solving or team-building exercises. This activity doesn't need to be elaborate. Discussions, brainstorming activities, and training sessions can be done within the four walls of a conference room. The key is to be resourceful to engage all employees under a team, so simple games would already make a great national mentorship month idea.
4. Show appreciation to mentors and mentees within your organization. This can be as simple as giving out small tokens of appreciation or hosting a special recognition event to show appreciation for the hard work and dedication of mentors and members of the team. This national mentoring month in 2023, stir up the company culture by prioritizing gratitude to company leaders and innovators.
5. Host seminars or networking events on mentorship. These can be focused on various topics such as career advice, personal stories, and incoming trends. While doing so, the company also welcomes new corporate connections that may prove to be beneficial in the future. It should be the 2023 national mentoring month company-wide activity to attract more connections and involve everyone during the start of the year.
The Impact of Mentorship: Personal Reflections From A Mentor and Mentees
This mentoring month, let us celebrate the impactful role of mentors in our lives and career journeys. We are fortunate to have mentors who inspire us to pursue our dreams and achieve greatness because not everyone is as lucky. We asked two people who succeeded in their respective industries to share their inspiring mentorship stories.
Mentee to Mentor: A Mentorship Story of A Producer from Manila
AJ Tuason, an Associate Producer at media company TV5 Network Incorporated, had a unique start to his mentorship journey. When he was working at GMA Network, one of the biggest media channels in the Philippines along TV5, AJ met his mentor Jeco Placido. Because of a slight mishap that wasn't his fault, his mentor threw a tumbler out of frustration which completely shocked AJ. But, as AJ got to know Jeco more, he saw that Jeco's passion for the media industry was undeniable.
"To bring back from memory my first encounter with him. I wrote a report about an upcoming TV series. My editor at that time did not choose the video suited for the script and so when it aired, it looked unprofessional. Out of frustration, my program manager threw a tumbler near me and hit no one. I was shocked. After the program, he approached me and apologized. He explained that he became too passionate. That's how the media works," shares AJ.
Despite what happened when they first met, AJ mentioned that the most valuable advice he was given was to be kind to people and listen to their struggles and stories. His mentor's advice stayed with him throughout his career and he was able to apply them in his work as a journalist.
One of the most recent challenges AJ faced was covering a story about inflation, the global recession, and the transportation crisis. Although they were not personal setbacks, AJ considered them setbacks for the country because he needed people to understand such heavy concepts. He was able to see things differently and more seriously thanks to his mentor's assistance and advice, so he was successful in explaining the ideas in a way that everyone could comprehend.
AJ believes that mentors are essential for growth opportunities. As he continues to grow in his career, he is also taking on the role of a mentor himself and is willing to guide newbies in his current company. He understands that his experiences and the lessons he has learned from his mentor are valuable and can help others in their journey.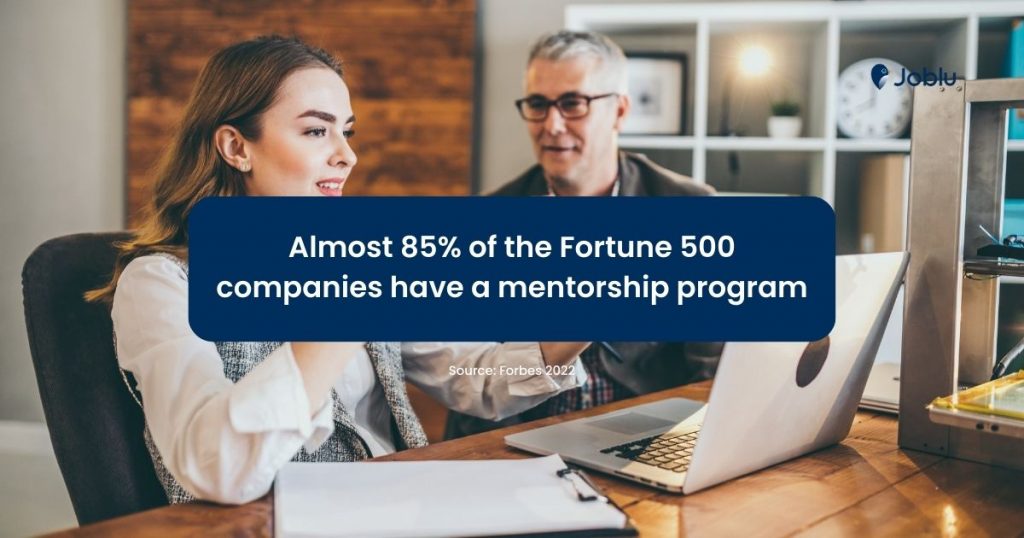 Apex OOH Founder & CEO: Mentorship is not about age
In 1974, Rene Rodriguez began his career at the age of 24 as a fresh graduate. He first worked for the multinational company McCann as a sales and marketing representative and then for Bayer. During his nine-year tenure, he learned the ins and outs of running his own company through his mentors and supervisor.
In 1983, just after he turned 30, Rene was able to establish his own out-of-home advertising company, Apex OOH. Utilizing the knowledge and skills he gained from his mentors, the company provided advertising services through billboards, TV and radio commercials, as well as bus and jeepney ads. Since its establishment, Rene has had the opportunity to work with some of the largest companies in the Philippines, such as Jollibee Foods Corporation, Kentucky Fried Chicken, and Silver Swan.
However, the marketing industry has changed significantly since the '90s, with digital marketing now being the norm. Rene admits that he struggled to keep up with new marketing trends and social media, but he is now working to change his perspective by stepping out of his comfort zone. Over the past year, he has been experimenting with different industries, such as digital marketing and food and beverage. For Rene, the marketing industry is constantly evolving, and mentorship and guidance are essential to adapt and stay relevant. He learned that it is important to be open-minded and learn from different people regardless of their positions, and that mentorship is not just a one-way street, it can come from anyone and it can be a two-way learning experience. It is also valuable to note that it's important to keep on learning and adapting as the industry and business landscape is always changing.
"I've been fortunate enough to experience the transition of the advertising industry from print to digital. While I admittedly saw this as a challenge, I also saw it as an opportunity to grow and adapt. It's not just about learning from those who have more experience, but also about being open to learning from the next generation. For me, the younger generation brings fresh ideas and new perspectives, and it's through their wisdom that we continuously find ways to modernize. After all, mentorship is not just about age, it's about being open to learning from anyone who can bring valuable insights and new perspectives to the table." says Rene. 
Mentorship is a powerful tool for personal and professional growth, offering more than just guidance and support. One of its key advantages is the opportunity to learn from an expert's perspective, gaining valuable insights and advice from someone who has been there and done that. With a mentor to consult and learn from, the path to success can be paved with valuable lessons and strategies for tackling problems in both personal and professional life.
As we celebrate National Mentoring Month, let's take a moment to acknowledge the immense value of mentorship and actively seek out opportunities to mentor or be mentored. Whether you're a seasoned professional or just starting out, a mentor can be a valuable asset on your journey towards personal and professional growth. Embrace the power of mentorship and watch as your potential for success soars. 
With the month of January almost coming to a close, take the remaining time to thank mentors and make new ones. Do you need help finding a new one?
We know where you can find your next mentor…
At Joblu, we understand the importance of mentorship and strive to provide a platform for job seekers and employers to connect and find the perfect career match. Our platform makes it easy for both parties to find their next mentor or mentee.

Don't miss out on the opportunity to learn and grow from a mentor. Download Joblu and find your next mentor or mentee. Sign up today to start your journey toward personal and professional growth.
Frequently Asked Questions About National Mentoring Month
Q: Is there a national mentoring month?
A: January is considered the national mentoring month.
Q: Is there a mentor appreciation day?
A: January 21st is Thank Your Mentor Day.
Q: Why is mentoring important?
A: Mentoring is important because it provides guidance and support for people with less experience and knowledge in a particular field or company. Furthermore, having a mentor can help boost a person's self-esteem, and help build connections in the industry.
Q: What is the purpose of mentoring?
A: The purpose of mentoring is to pass knowledge to someone who has less experience. Hence, it helps other people grow and achieve their goals– whether in personal or professional life.
Q: What do you gain from mentorship?
A: A mentee will be able to make better decisions through their mentor's helpful pieces of advice and guidance. People can potentially  speed up their personal and professional development as they apply everything they learned along the way.