Mass layoffs have been all over the news in 2022, urging many workers to worry about what to do after being laid off. Based on global trends, they may have cause for worry. This phenomenon is happening not just in the US but in other regions globally as well. Many major US tech companies such as Amazon, Meta (Facebook), Twitter, and Netflix have begun to cut jobs. Smaller yet popular apps like Snapchat and Soundcloud have also joined in the fray. In Southeast Asia, several tech startups have started to let go of some of their staff, and tech experts anticipate more in the next few months. Europe is not far behind — mass firing of employees has been happening in the region since May 2022.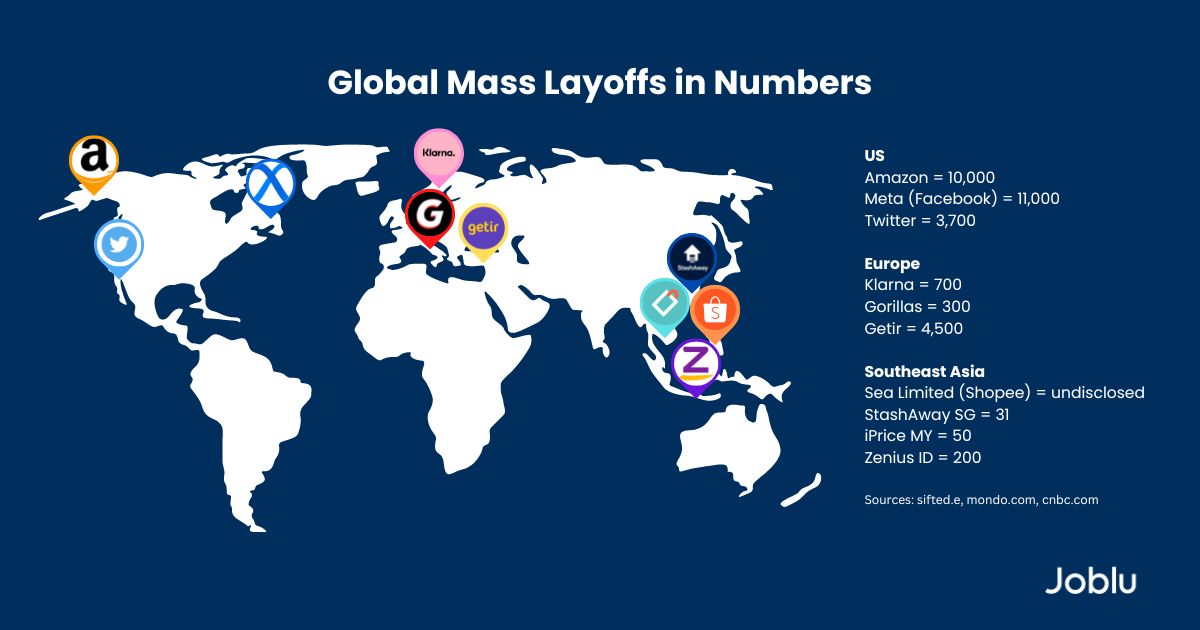 There are various reasons for the mass layoffs, but the biggest factor is the threat of a global economic recession. As early as now, consumers are feeling the pinch, causing them to cut back on spending, which in turn is compelling digital advertisers to curb their spending as well. With fewer digital advertisers spending on these tech companies, the only recourse is to find ways to bring down costs.  
What happens when you get laid off? Ultimately, being laid off is never easy. Even more so in today's economic climate, after having struggled through the pandemic. But instead of licking your wounds clean, it's important to deal head-on with the mental and emotional toll of the experience. Equally as important — knowing your job severance rights and using them to help you bounce back after being laid off.
In this article, we'll be talking about what to do after being laid off: how to respond to the news, and what steps you need to take after. We'll also be providing you with tips on how to bounce back from being laid off so you can recover from the setback in a positive manner.
What to do after being laid off
Mass layoffs do not just happen all of a sudden. There are, more often than not, signs that you can pick up on. In such a scenario, the mantra "Hope for the best, prepare for the worst" comes in handy. In other words, try to stay positive, but be prepared with a checklist of what to do after being laid off, just in case.
Accept the news with professionalism, calm, and grace
Heard about the possibility of mass firing of employees? Even if you're not sure about you being included in the roster, brace yourself for the possibility that you are. This is so you can emotionally prepare for the eventuality and you can conduct yourself in a professional manner when you do receive the news.
Know your severance package
After accepting being laid off, it's now time to get down to brass tacks. Review your employment contract, find the section on severance, and know what you're entitled to. This will differ per region. In the US, companies are not required to provide a severance package but many still offer them as part of a competitive employment package. In the ASEAN region, severance package rights mandated by law differ per country. The same is true for European countries, and the package may even differ based on the reason for dismissal.
Ask if your company is offering any post-severance assistance
Aside from a severance package, your employer could prepare post-severance assistance in the wake of mass firing of employees. This may or may not include covering your health insurance premium for the rest of the year, referrals and placement services, and life coaching or mental health assistance. You can even ask them to provide you with an email or official document stating you were laid off and not fired for cause or performance.
Different countries provide some sort of unemployment assistance or insurance. In some countries, your employer might assist you with this as part of their post-severance assistance. But in any case, seeking unemployment assistance should be on your priority list of what to do after being fired, especially if you were fired through no fault of yours.
5 Tips on How to Bounce Back from a Layoff
What happens if I get fired from my job? You bounce back. Easier said than done, you might say. So here are tips to help you navigate this experience:
1. Prepare in every way you can
Update your resume, look at your financial situation, and start asking around for job leads. You can even let your family or support system know about your situation so they can help you.
While it's tempting to point fingers and get angry, understand that most, if not all, employers do not enjoy mass layoffs. So don't let this event turn you against your colleagues because they might just hold the key to your next job opportunity.
3. Give yourself time to recover and reflect
As much as it helps to stay pragmatic about the situation, getting laid off can have an emotional toll on anyone. So talk it over with a trusted friend and seek out a mental health professional. Don't rush into any job offer just yet if you can afford it.
4. Reframe the experience
Instead of looking at being laid off from the point of view of a victim, see the experience from a different perspective. You can use this time to reflect on your career path and how you can improve your future employment experience. Use your learnings to guide your next steps and decisions.
5. Commit to the job hunt
Once you're ready to get back in the saddle, commit to the job hunt. Maximize your resources, including the network you've created in your previous job and all the assistance your former company can extend.
There's no way to sugarcoat what happens when you get laid off. Facing a layoff is a tough experience, especially in this post-pandemic era, where most of us have yet to fully recover. The most important action you can do is to acknowledge your feelings and concerns about being laid off. Don't be afraid to ask for help if you need it. If you can, take your time. And ultimately, allow yourself to turn the experience into a growth opportunity.
Laid off from your job or thinking of a career switch? Explore your options and consider going global. Sign up for Joblu and get connected with trusted companies and employers all around the world.
Frequently Asked Questions About What To Do After Being Laid Off
Q: How do you start over after a layoff?
A: Here are our tips on how to bounce back after being laid off:
Prepare in every way you can — update your resume, review your finances, and ask for job leads.

Don't burn bridges with the people in your company.

Give yourself time to recover and get help from people you trust.

Reframe the experience and let your learnings guide your next steps.

Commit to the job hunt.
Q: What to do right after being laid off?
A: Accept the news with dignity and ask the following:
What severance package are you entitled to?

Does the company offer post-severance assistance?

Can your employer provide you with an official document stating you were not fired for cause or performance?
Lastly, file for unemployment. There are some countries that offer unemployment assistance or insurance and it could help you more than you know.
Q: What does it feel like to get laid off? What happens if I get fired from my job?
A: Like any experience of unexpected change, you may feel at a loss and overwhelmed about what to do after being fired. Others may see it outright as an opportunity to be freed from a job they don't like. However, for most employers, the prospect of being laid off could be devastating, especially if they have a lot of responsibilities.
Q: Is it embarrassing to be laid off?
A: It's natural to feel embarrassed about being laid off, even if you weren't fired for your performance. It's important to deal with this emotion, and any other feelings you associate with being laid off, in order to get past them.
Q: What are the most common signs before a layoff?
A: The biggest sign is if your company has been experiencing a lot of financial losses for quite some time. A hiring freeze, talks about org restructuring, and C-suite executives leaving and being replaced by outside consultants are other common signs. If you're hearing about the possibility of your company being acquired or in the midst of a merger, you could take that as a sign of layoffs as well.