DEI (diversity, equity, and inclusion) in the workplace is a concept that's starting to gain popularity as the younger generation joins the corporate world. For Millennials and Gen Zs, how a company handles social responsibility plays a huge part in their decision to consider a role. As such, companies are now recognizing the benefits of diversity and inclusion in the workplace in attracting a new generation of workers.
In 2021, Gartner revealed that 35% of the 550 HR executives surveyed prioritize diversity, equity, and inclusion for 2022. In the same year, Glassdoor also reported that almost 80% of job seekers see team diversity as a factor before considering companies and job offers. 
This article will cover everything there is to know about diversity, equity, and inclusion in the workplace to help you up your hiring game or gauge companies to apply for. 
What Does Diversity, Equity, and Inclusion in the Workplace Mean?
DEI in the workplace happens when companies do not discriminate against workers and create a safe environment where employees feel respected and valued – regardless of background and identity, among other factors. However, this is only possible with a robust HR department that is well-versed in DEI practices. By successfully implementing diversity and inclusion initiatives, the department can both retain and recruit talent.
What Are Some Benefits of Workplace Diversity?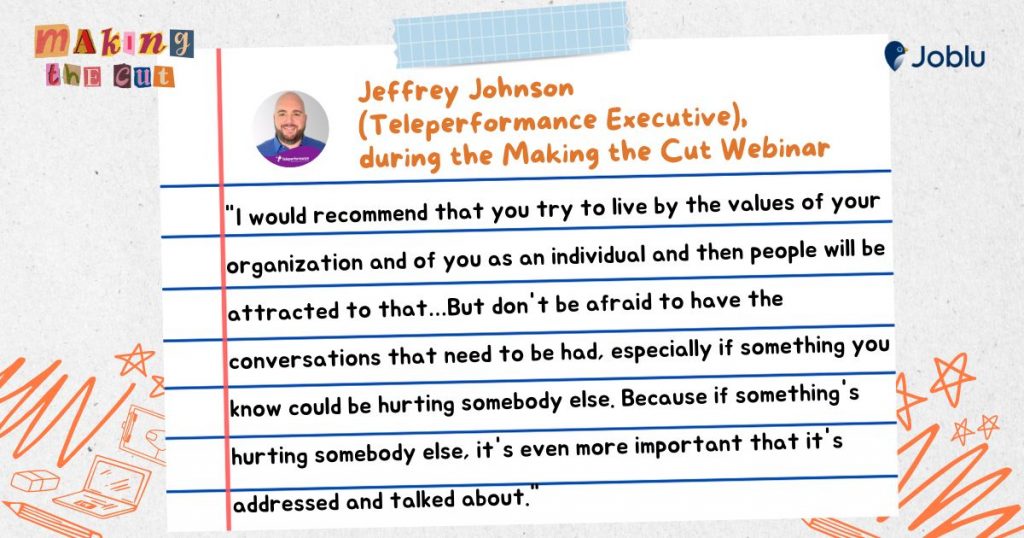 Simply put, a diverse team is similar to a sports team with players playing different roles. A soccer team can have goalkeepers, defenders, and forwards, much like a diverse workplace that needs people with different perspectives and skills. Each team member has unique strengths and experiences that they can bring to the table and can assume different roles to help overcome any workplace challenges. 
Having a diverse workplace has no disadvantage, but here are two key benefits of diversity and inclusion in the workplace:
A diverse company can attract and retain employees.

According to a 2020 Diversity and Inclusion survey conducted by

Glassdoor

, over 75% of employees reported that diversity was a crucial factor in their decision to accept a job offer or not. The same survey mentioned that black and Hispanic job seekers have left a job following an instance of workplace discrimination that they have either experienced or observed.

Employees are more likely to stick with a company and contribute to its long-term success if they feel appreciated and valued by it. Organizations can not only attract top talent by actively supporting and fostering DEI projects, but they can also develop a welcoming and inclusive culture that aids in employee motivation and retention.
A company with DEI initiatives can keep customers satisfied.

According to

Andy Sarakinis

, the Vice President of Global Operations of Nearsol Philippines, customer experience starts with applicant experience. By giving high emphasis on employee satisfaction, businesses may foster a supportive workplace culture that motivates staff to deliver great customer service. In the end, this leads to increased customer loyalty, a solid brand reputation, and business growth.
Ideas on How to Encourage Diversity in the Workplace
A 2023 survey from Lever revealed that nearly half of the talent acquisition professionals are currently revising employee handbooks to reflect their DEI initiatives. The same survey further mentioned that more than half are campaigning their initiatives through the company and social media channels.
Having said that, a diverse workplace is important for all companies, regardless of size. Aside from the benefits mentioned in the section above, having DEI initiatives can undoubtedly lead to a more positive work environment. These are practical ideas that any company can start with. 
1. Start small by hiring more diverse employees
One way to encourage diversity in your workplace is to start by making small changes to your hiring process. Assess your present talent pool first, paying attention to any racial, social, or gender homogeneity. It could be time to start actively looking for applicants with more diverse backgrounds if you notice a lack of diversity.
2. Organize educational webinars and talks promoting DEI
Help employees know how to improve company culture and promote DEI by educating them on its importance. It could be as simple as requiring them to attend webinars or inviting guest speakers. Internally, the HR department can also facilitate mandatory meetings, which can also be complemented by informative resources, fostering a deeper understanding and commitment to DEI within the organization.
3. Encourage open communication and ask employees what they need to feel safe
Consider implementing mental well-being programs, as well as other DEI initiatives based on the collective preferences and needs of employees. By engaging in regular dialogue, providing safe spaces for discussion, and addressing concerns, the organization can continuously enhance its commitment to diversity, equity, and inclusion.
4. Showcase your commitment to DEI
Highlight your company's DEI initiatives on your website, social media channels, and during the recruitment process. Share stories and testimonials from employees, and be transparent about your organization's goals and progress toward building a more inclusive workplace.
Let your employees be proud of who they are! You can allocate special days for team members to share their culture or traditions with each other. You can also discuss important events like Women's month or Pride month, among others. This initiative can help team members build a strong bond between team members.
Google: A Champion in Promoting DEI in the Workplace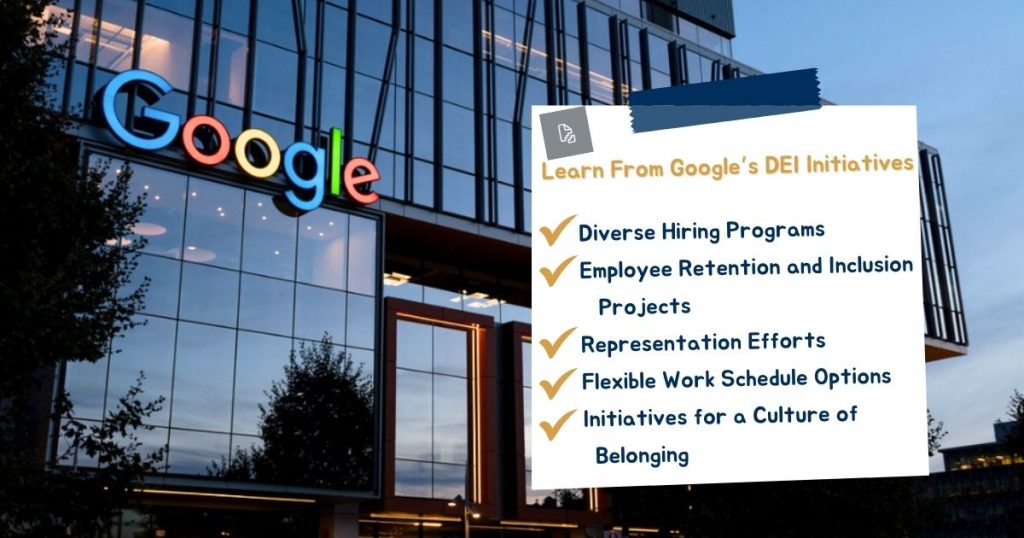 All job seekers must understand the importance of fact-checking a company's values prior to accepting a job offer. After all, it is your responsibility to know whether the company's values and principles align with your own. Although the organization may not be as large as Google, you can still examine specific initiatives to determine if they foster a culture that resonates with you. At the same time, recruiters can gain valuable insights from Google's comprehensive approach to diversity and adapt these best practices to their own organizations.
In an effort to become an inclusive workplace, Google started conducting Diversity Annual reports in 2014. According to the 2022 report, the company implemented five key actions in 2021, and here are some of its highlights:
Diverse Hiring Initiatives:

Their hiring report showed growth in Asian, Black, and Latinx ethnicities. The company also exhibited great initiative in hiring more women as the global percentage increased by almost 4%.
Projects for Employee Retention and Inclusion: The #ItsUpToMe program, active in 30+ offices globally, empowers leaders and employees to support diverse communities. In 2021, it reached over 5,000 managers who collaborated with DEI experts to achieve goals.

At the same time, Google also introduced the Maven Maternal Health Program in the US to provide additional support for expectant mothers and parents, addressing health issues disproportionately affecting Black families. The program offers a customized care team, 24/7 virtual appointments, access to 30+ healthcare professionals, newborn support, return-to-work counseling, mental health support for pregnancy loss, and LGBTQ+ inclusive guidance on fertility and adoption.
Representation Initiatives

: The global statistics suggest that there was almost a 3% increase in the number of women in leadership positions. The report also highlights how the company invested in and supported diverse suppliers and start-ups.
Options For A Flexible Work Schedule

: As a result of the pandemic, Google introduced hybrid and remote work setups. Google launched the "Room for All" campaign that offers useful resources and tools developed by executives and employee groups. Additional measures include increased options for transferring office locations or working remotely, as well as four "work from anywhere" weeks per year to accommodate personal schedules and travel plans.
Projects For a Culture of Belonging

: Aside from open dialogue on current issues on representation, Google launched the "gReach" program in Asia to promote the representation of individuals with disabilities. This initiative provides students and professionals with disabilities with hands-on training and the experience of working on a variety of projects within Google teams.
In response to the pandemic, Google also started a worldwide campaign to endorse and aid LGBTQ+-owned enterprises and community arts centers. Google also promised financial support and Ad Grants, accompanied by resources and training, among other things to facilitate the recovery of LGBTQ+ businesses and organizations impacted by COVID-19.
As a job seeker or recruiter, it is crucial to acknowledge the value of DEI in the workplace and prioritize it accordingly. By understanding its importance, and learning from successful examples, organizations can cultivate a culture of belonging that benefits everyone involved. At the end of the day, a diverse and welcoming workplace not only gives employees a competitive edge but also paves the way for a future without barriers.
Take Action with Joblu Today!
Ready to explore a diverse and inclusive workplace that aligns with your values? Joblu is here to help! We believe that finding the right job or hiring the best talent should be a seamless experience. With our extensive database of job listings and top-notch employers prioritizing DEI initiatives, we make it easy for you to discover the perfect match.
Download Joblu now and take the first step towards a more fulfilling career, and unlock the potential of an inclusive workplace!
Frequently Asked Questions About DEI in the Workplace
Q: What does DEI in the workplace mean?
A: DEI means diversity, equity, and inclusion.
Q: How do you demonstrate DEI as a recruiter?
A: As a recruiter, you can demonstrate DEI at work by implementing unbiased hiring practices, promoting diversity in job ads, and fostering an inclusive interview process. This should involve inclusive language in job postings, unbiased candidate screening, and diverse interview panels. Additionally, you can also provide DEI training for hiring teams and showcase your organization's commitment to diversity through company branding and communication.
Q: What are some examples of DEI initiatives?
A: Some examples of DEI initiatives are:
Implementing diverse and inclusive hiring practices, such as blind recruitment and diverse interview panels.

Promoting flexible work arrangements to accommodate different lifestyles and needs.

Encouraging open communication and creating safe spaces.

Recognizing the importance of cultural, religious, and identity-based values through year-long celebrations.
Q: What are the benefits of an inclusive workplace?
A: Some benefits of DEI in the workplace include customer satisfaction and employee retention.
Q: How can I be more inclusive at work?
A: To be more inclusive at work, you must:
Educate yourself on the importance of DEI.

Actively listen to and respect different perspectives and experiences.

Use inclusive language and avoid making assumptions about people.

Offer support and encouragement to colleagues from diverse backgrounds.

Challenge biases and stereotypes, both in yourself and others.

Advocate for diverse representation in decision-making and leadership roles.

Be open to feedback and continuously strive to improve your inclusivity efforts.