In a world where job hunting can be an exhausting process, Joblu has been making significant strides to reshape the landscape of job searching. Before March ended, we just hit our 1,000th successful match. This achievement is a testament to Joblu's commitment to connecting job seekers with their ideal job opportunities.
To get a glimpse of what it's like using Joblu for finding jobs, we asked Joblu's 1,000th candidate match John Paul Ordinario, a talented professional from Manila, Philippines. With expertise in Sales, Retail, and Customer Service, John Paul was seeking both full-time and freelance opportunities to expand his career. Thanks to Joblu, he found a match and took a significant step forward in his professional journey.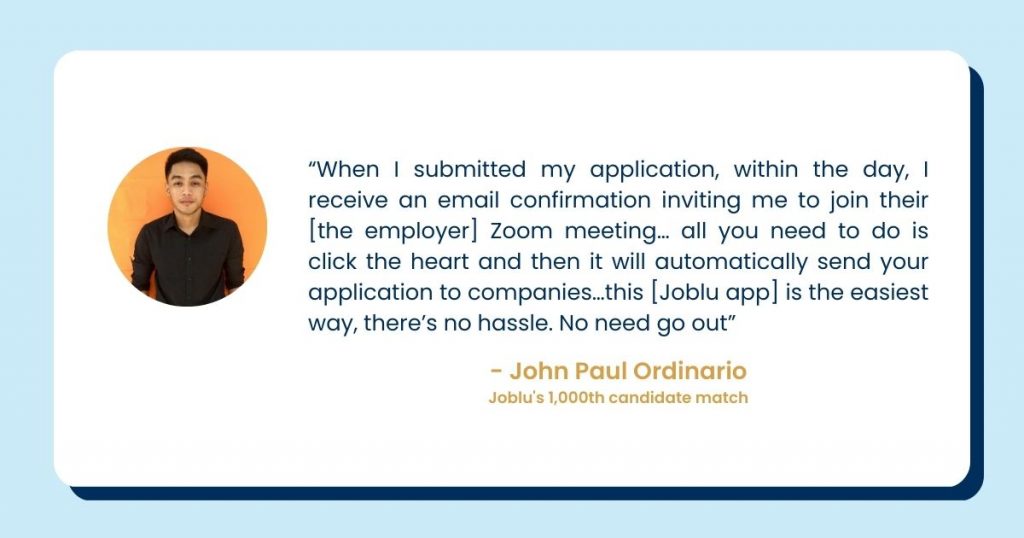 As the Joblu community celebrates this milestone, we would like to extend our gratitude to all the users who have placed their trust in us during their job search. Joblu understands the emotional challenges job seekers face and takes pride in helping make their journey smoother and more rewarding throughout the entire process.
From its establishment to today, Joblu continues to challenge the traditional job search process by making it more efficient and enjoyable for all parties involved. "I like this app since it's the easiest way to look for a job," shares John Paul.
Joblu's innovative features have helped countless individuals land their dream jobs. Our smart filtering system connects job seekers with the most suitable vacancies based on their skill sets and preferences. The in-app messaging system allows direct and efficient communication between candidates and employers, while the JobReels feature helps employers and job seekers alike to showcase their personal brand and values.
Although Joblu's 1,000th candidate match is a significant milestone, we see it as a stepping stone to greater accomplishments. Our team is dedicated to expanding its reach, assisting more individuals in finding their perfect jobs, and enabling employers to connect with the best talent effortlessly. The Joblu team is constantly working tirelessly to further revolutionize the job search experience.
Everyone at Joblu extends their heartfelt thanks to its users for their unwavering support and trust. We look forward to celebrating even more significant milestones in the future as we continue our mission to revolutionize the job search landscape.
If you're ready to join the Joblu family and take the first step toward career success, download the Joblu app today and discover the difference for yourself!